As the storm clouds clear and the markets return to normal we should see some pretty interesting things in relation to SiriusXM.  There is a decent technical argument that caution flags are setting up and this equity could test some lower levels.  Please bear in mind that news (even the election) could impact this equity 10 cents in either direction, so you need to be prepared for anything.  Also bear in mind that the longer term is still bullish, so the ranges in the next few weeks are not material to the buy and hold type investor.  Traders have some opportunity, but not without risk.
Volume
Volume today was moderate.  In many ways it is demonstrating that the move down is not happening on strength.  That bodes well for the longer term.  However, I will caution that 56 million shares traded used to be about the average, so the move is not entirely weak.  The true dynamics (for active traders) that are setting up can be seen in the support and resistance areas.

What we want to watch for is the volume at $2.80 and $2.90.  Those are the limits of the new range.  If SIRI breaks $2.80, then a test to $2.75 is in the cards.  If It breaks $2.85, then a test of $2.90 is in the cards.  At this point I would bet that $2.75 hits before $2.95.  Watch volume at these levels (intraday) closely!
Support and Resistance
Please note the chart.  There are changes, and the moving averages are very tight.  I have shifted the near term target to $2.95.  The risk below is at the 50 day moving average and support at about $2.66.  Looking at the near term the upside potential  is about 12 cents, while the downside risk is 17 cents.  An active trader would find this proposition to be attractive.  If I was an active trader in the equity I am a seller of above core shares in the morning.  My strategy would be to assess the action if the equity dips into $2.70's and what volume that is happening on.  Even if the equity were to test $2.90 after my over-core sale, I would maintain that stance unless volume at $2.90 is over 75 million shares.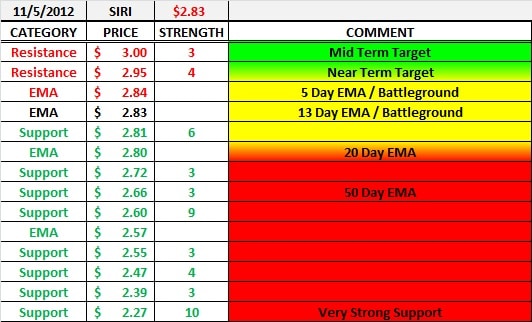 What we want to see is the equity reaction at $2.80.  This represents both a support level ans well as the 20 day EMA.  When you see the EMA chart you will see my concerns over what may be a short term technical breakdown.
Exponential Moving Averages - EMA's 
The EMA chart still remains bullish, but one caution flag is up, and a second and perhaps third are not far behind.  The equity has been coiling and then bouncing up lately, but it lacks authority in any upward move.  Caution is the word of the day.  While I am not ready to call $2.66 just yet, it is very much on my radar screen.  Notice how tight the 5, 13, and 20 day averages are.

Simply stated, if this equity closes below $2.81 tomorrow, we will have 3 caution flags in play and one bearish signal!  We are that close to going bearish in the short term.  As stated, If I were an active trader this is the event I am looking for.  Remember though, news, even election news, can impact things here.  If you are in the holding mentality, what you want to see is a close of $2.86 or better to allow some breathing room.
Summary
I am short term bearish on this equity and long term bullish.  I see an opportunity here for selling an over-core position that is better than any we have seen in a couple of weeks.  Stay tuned, and stay on top of it.