Well, I said that the macro-economic situation was a risk, and we saw it come to fruition with the price of SiriusXM today.  The equity gave up all of the positives things that were building and now it is time to re-set.
We have warning flags up again across the board.  Bear in mind that this is not SIRI centered, but the market as a whole.  The unfortunate thing is that there may be not "action" news in the pipeline.
The volume was higher than normal, but far from being a massive sell-off.  There are indeed some scared hands out there, but it also appears that many are holding.
The support and resistance is interesting.  The 100 Day EMA is at $3.23 and there is decent support just below that at $3.18.   It is imperative that this equity hold above that $3.18 level.  If that breaks, we could see a nasty trip down.  Watch $3.23 and $3.18 closely.
The EMA's look nasty again.  It looks like we will get that EMA consolidation at around $3.35, but the problem is that we are on the wrong side of it with the macro-economic situation having everyone on egg shells.  We will not be out of the woods unless we break $3.35 to the upside.  Even then it is precarious.
Volume 

Support and Resistance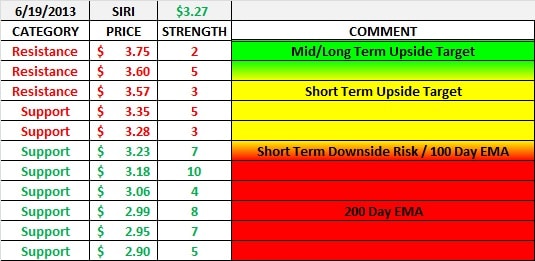 Exponential Moving Averages