SiriusXM looked as though it would continue consolidation today, but at the end of the day the volume spiked and the equity began to run.  The run continued in the after hours session.  This would seem to indicate that someone wanted in, and they wanted to wait to make their move.  Volume was below normal, but we do have to consider how massive the volume was as the day drew to a close.  The equity closed with twice the volume of the day before.
The conference call is tomorrow morning.  I am looking for the company to beat estimates across the board, announce the number of shares bought back to date, and perhaps even announce a new share buyback.  Simply stated, this equity is slated for a run.
The company will release numbers prior to the call.  Watch for them.  The equity will likely react in the pre-market as well.  I am looking for this to move quickly in the morning session.  The better the call, the better the run.  Be aware, that we will see a crest, and we will settle a bit.  You simply need to pay close attention.  This run may last a day, or it may last a few days.  Watch the volume, even intra-day, to identify the crest.
It happened at the last minute, but we did get some strength in the support and resistance.  We have a decent level at $3.59, which is good.  This is backed up by a moderate level at $3.50.
The EMA's are still strong and green.  Get ready for the run,
Volume

Support and Resistance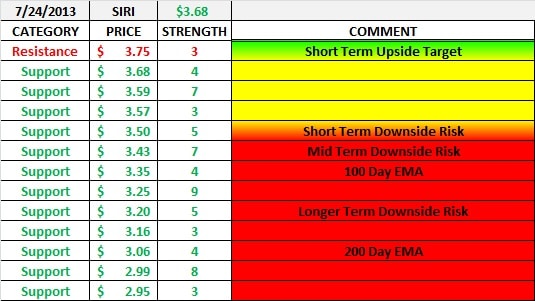 Exponential Moving Averages