SiriusXM closed up slightly today on what has been one of several days of low volume.  Just like the equity lacked strength to the downside yesterday, it lacked strength to the upside today.  Welcome to another foundation at about $3.15 from which we can build on.  One would have hoped that the new foundation would have been $3.20, but that is another step for another day now.  What I liked about the action today from a bullish standpoint is that the equity did not go ahead and test lower levels.  What I did not like was that this action is happening on lower volume.
Volume
We are in essentially the same place.  What we want to look for now is volume to pick up and the price to build.  In my opinion we will likely see pops or dips on lower volume, but the big moves will happen on volume that is 60 million shares or more.   As an investor watch for high volume in the beginning of a session and assess the direction.

Support and Resistance 
Support and resistance remains essentially the same.  The current key levels are $3.10 and $3.17.  What we want to see is the equity hitting one of these levels (depending on whether you are looking for a pop or a dip) on volume above 60 million.  Pay attention to volume early in session.  The best moves in this equity will come on high volume and that should be recognized early in the day.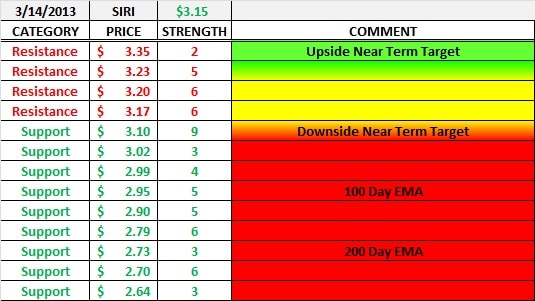 Exponential Moving Averages - EMA's 
The EMA's have a few caution flags.  In the past this is typically a point where we see a reversal happen.  The equity is essentially a penny or two away from removing all caution flags.  On the downside SIRI is a penny or two away from some warning flags.  With all of that being said, the equity has held above $3.10.  I am looking for a test of $3.17 tomorrow.