Once again, there is not much to say.  For that I apologize.  There is simply not very much to get excited about with SiriusXM in the view of the street.  The company will have good revenues, good cash flow, and a good foundation, but it seems to have lost some sex appeal.
We sit in the low $3's with the 100 day EMA below the 200 day EMA.  We have caution flags all flying again and added another warning flag.  Liberty reported, spoke highly of SiriusXM, and still we do not see this equity gain any traction.  We can not even claim that the equity is oversold!
What we need to see is progressive technical gains happening on the required volume.  That means a march to $3.22, the $3.26, then $3.36, then to $3.41.  Until this equity can close above the 100 day EMA and hold it, we will not see big moves in either direction.  There is a "buy" in here, but the bigger question is what the upside is and how long it will take to get there.  Meanwhile, the street looks for sexy stocks to make money in.
Volume 

Support and Resistance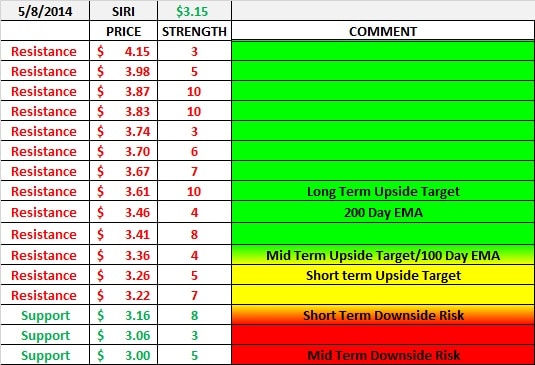 Exponential Moving Averages