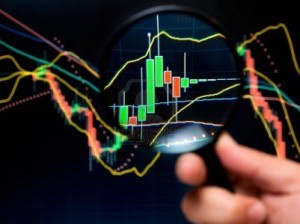 Well, that was disappointment!  I had expected the company to be conservative on subs because of the GM deal, but 1.4 million for 2013 certainly put a damper on the 2 million added in 2012!  The other guidance was pretty much what I anticipated seeing, albeit the revenue line was a bit light.  I had anticipated that $50 million less revenue for Q4 because of the new GM deal as well and revenue guidance to be $3.8 billion instead of $3.7.
If you have not done so yet check out my article on valuation.  With the release of guidance I have set a 2013 price target of $3.85.  That is a nice little pop from current levels, and because this is SIRI it could certainly test waters over $4.00 during the year.  Bear in mind there is a lot that can happen between now and the end of the year.
Volume 
The volume today was moderate/heavy.  In other words it was higher than average, but not heavy.  The equity did not respond well to guidance and sub numbers, so that leaves us with waiting on Liberty news and the quarterly call.  My old price target of $3.25 is certainly not out of the question, but the catalyst to get there is no longer as strong.

We still want to see SiriusXM test that $3.15 level with some strength.  Until this equity can pass $3.15 on volume we are in a trading range.  If the EMA's pull up above $3.00 it could be time to use up my cash in the mock account and buy even without a strong move.  The EMA's are moving up, so the balance of the week can get interesting.
Support and Resistance
Support and resistance has shifted a bit but the essential story is the same.  Support above $3.00 exists and resistance at $3.15 is not real strong, but strong enough to keep the equity range bound.  We still want to test $3.15 and avoid a dip below $3.10.  There is wiggle room in the support and resistance chart, but very little between the current price and the 5 day EMA (more on that below).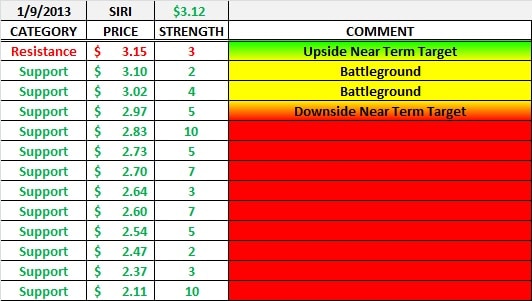 The key levels are $3.02, $3.10, and $3.15.   Watch those closely and watch volume.  Strength in the volume is 85 million shares or more.
Exponential Moving Averages - EMA's
These are still bullish and we still are free of caution flags.  We also have a decent amount of wiggle room between each average and that is great.  The bad news is that the current price is only 2 cents above the 5 day EMA.  It is not a huge worry for me, but an active trader that likes to pick up a nickle or so will want to watch that close.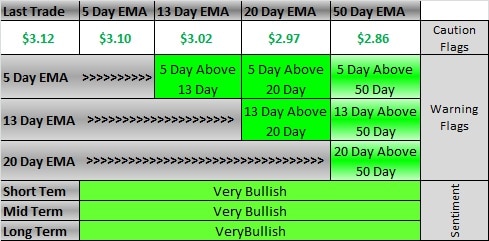 What we want to see is a close above $3.15 on volume of over 85 million shares.  If that happens it opens the door to $3.25.  With guidance in hand we may be able to see this equity build here at these levels.  There is nothing wrong with a good foundation... right?
The bottom line is that tomorrow will set the stage.  We have guidance and analysts will do their thing.  I suspect a few might trim slightly on the sub and revenue numbers, but all in all we are still looking bullish!