SiriusXM is continuing an interesting upward move and has broken through $3.23.  The action happened on slightly lower volume than we would like to see, but there is a distinct upward trend that has not yet broken.  The strength behind this move is not substantial, but it is distinctly possible that we go ahead and test a new 52 week high as the week progresses.
Volume
Nearly 56 million shares changed hands today.  This is slightly lower than average and slightly lower than the action in the previous trading session.  The volume indicator here would be that perhaps the equity is cresting at these levels.  The volume did not show a distinct drop-off, but the lighter volume is worth noting.

What we want to watch for is the equity to, at a minimum, maintain current levels on current volume.  A big positive would be ticking up on both price and volume.
Support and Resistance
Support and resistance is getting interesting.  The behavior of the equity is serving to establish new and higher resistance levels while at the same time eliminating some support levels below.  We now have resistance in the $3.30's and the next support below at about $3.13.  The level at $3.23 is a support and resistance level, but the equity is hovering right there.
The story tomorrow will be whether $3.23 hold.  In my opinion if this level can hold on at least 80 million shares traded we will see the $3.30's in the next 5 or 6 trading days.  On the other hand, if that does not happen we will see the formation of a new battleground at about $3.23.
Exponential Moving Averages
The EMA's remain all green and the equity is trading above all EMA's yet again.  There will be a point in time when the equity gives some of this up, but I find it hard to imaging the 13 day average being broken, and actually see the 5 day average as a support level with decent strength.  Essentially we have the risk side of 13 day average at $3.15 and an upside potential just above $3.30.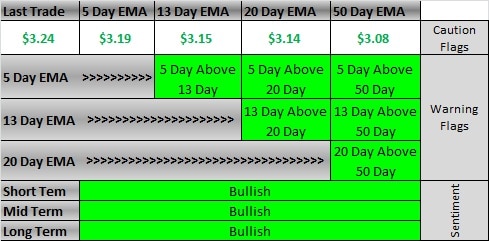 There is still a lot of wiggle room between current levels and even the 5 day average at $3.20.  Watch things closely and be prepared for a mini run if the overall markets remain bullish.