SiriusXM closed down slightly on Friday with lower than average volume, and volume lower than the previous session.   The trading range continues while the exponential moving averages continue to constrict.  We have two caution flags with the equity and are in danger of a third caution flag and even a warning flag.  There will be a point in time when this equity makes a decision on which direction it wants to ga and the best we can do is to be prepared for either direction.  This is the reason watching the technicals pays off.  It can allow you to have strategies in place.
Volume
The volume was lighter than normal and lighter than the previous session.  Trading down on light volume usually means there is little conviction behind the move.  In essence there are not droves of people looking to sell at these levels.  On the flip side, there are not droves of people looking to buy above $3.18 either.  Thus the range.  What we have seen when this equity has decent volume is that it is typically trading up on those days.  That helps give an upward bias to the action.

What we still want to see is a string of decent volume days set up in one direction.  It may take some time to develop, but when it happens we are looking at a mover that could be 5% to 10%.
Support and Resistance
Support and resistance remains much the same.  The equity is holding the line both on the upward and downward side.  At this point it is simply best to understand key levels, what to look for, and develop a strategy.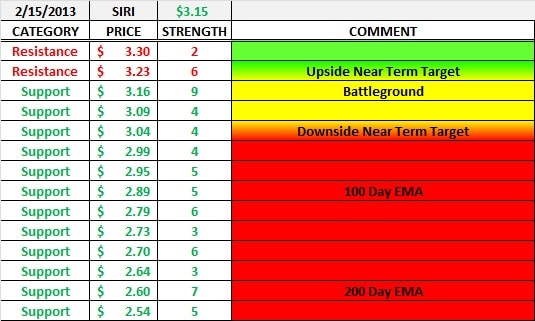 The key levels right now are $3.10, $3.14, $3.16, and $3.18.  While some of these levels do not correspond directly to support and resistance levels, they do correlate to EMA's, and these are important to watch as well.  What you want to monitor is what type of volume we are seeing at these levels.  Average volume is about 63 million shares.  A move on high volume is what we want to see to grab a run.  A move on low volume is what we want to see to indicate a reversal.  One problem is that even with signals this equity is trading in a tight range.
Exponential Moving Averages - EMA's
The EMA's have developed two caution flags now and are on the cusp of a third.  These caution flags serve as signals to pay attention.  For a few weeks now we have seen caution flags appear and disappear.  That action is okay and helps illustrate the range we are in.  The equity closed on Friday at $3.15.  This is just below the 5 and 13 day EMA's which sit at $3.16 (thus the cautions), and just above the 20 day EMA at $3.14 (the next possible caution should the equity close at $3.13).  We have the EMA's converging and this is important.  It typically means a more concerted move is in the cards at some point soon.  This equity is not usually very comfortable with EMA's so tightly wound.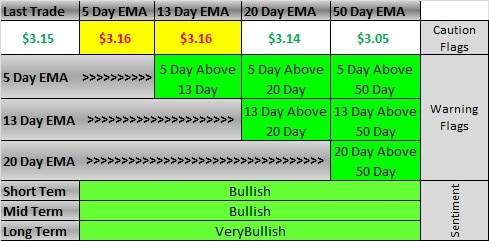 What we want to avoid is a close below $3.14.  If that happens a third caution will develop as well as a warning flag.  This is when $3.10 becomes key.  Support below $3.10 is at $3.05 from an EMA standpoint.  Watch the action closely.