Despite the early departure of Art Bell, SiriusXM held it's own.  That was tongue in cheek.  Art Bell is a talent, but the addition or departure of talent no longer is an equity driver.  The stock is all about the bottom line.
SiriusXM closed at $3.72 today on moderately low volume, though volume was higher than the previous session.  The support and resistance is building a bigger wall up above.We now have strong resistance at $3.77 to contend with.  In my philosophy, I like to look at two steps of potential and two steps of risk.  I have shifted the mid term upside down a notch to $3.96.  What this essentially means is that the upside is getting more challenging.  On the downside we are hanging onto support at $3.70 (which is also the 100 day Exponential Moving Average) and have the next real support at the 200 day EMA (which is at $3.50).
The EMA's added a new warning flag today and that chart now looks pretty ugly.  We are darn close (as in a 4 cent drop, or two more trading days at the current level) to seeing warning flags across the board.
The good news is that we are seeing consolidation.  The bad news is that the action today gave an opportunity to bring on a new resistance level.  We still need to pay close attention to $3.70.  If that breaks, I would bet that this equity will drop to $3.61.  Be aware.  Be very aware.
It is still my belief that longer term there is some good upside here.  We will need to get through a tough period before that though.  On a fundamental standpoint consider these:
Q4 will include the impact on subscribers relating to the new GM deal.
The company just spent money acquiring Agero.
SiriusXM will have expenses associated with the launch of the new satellite
There is a lot that is working against good numbers in Q4.  Essentially, if you are on the sidelines, I do not see any reason why you should jump in.  You will likely have ample opportunity to make your play without frustration of the ebbs and flows we will likely be seeing.  In addition, you should wait for the signal of the EMA's reversing the warning flags and getting more bullish.
We do have new members, so please forgive me on linking back to a previous article.  To make a long story short, I am getting married this weekend, and will be somewhat out of the loop for 2 weeks.  One of those weeks I will be on a cruise, and not posting updates.  Next week I will be on land, but in all honesty, having just gotten married, can not guarantee a commitment to my usual timely and regular updates.  I have offered up to all members to send us an email if you want your membership adjusted during this period.  Please look at the section regarding coverage during this period my previous post here.  If you are new, my apologies for this interruption in coverage.  You can feel free to view any and all premium posts to see how all of this works.  Again, if you want an adjustment, please send us an e-mail.  Now to the charts:
Volume

Support and Resistance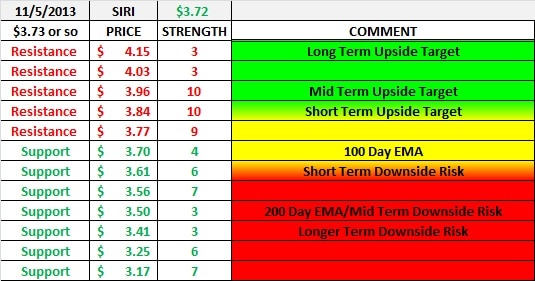 Exponential Moving Averages