The good news is that volume was lighter than average and lighter than the previous session.  The bad news is that SiriusXM went down further again today.  The equity seemed to be holding the line in the early session, but gave up and sold off in the afternoon, closing at the low of the day.  As I have warned, we need to keep the $3.20's on our radar screens.  It is going to take fundamental performance to turn this equity around and see it return to the $3.6o's.  Yes, I hear about price targets of $4.00, $4.50, and $5.00, but in my opinion those are a bit optimistic at this point.  There is possible justification for a spike to $4.25, and perhaps even $4.50 on good fundamental performance.  One problem is that some numbers are not going to look robust in Q1.
The lower volume was a silver lining in what was otherwise a bad day.  At least the equity is not racing down to the $3.20's.  Yes, it may go there, but the trickle down is better than the race.Traders that sold out on the initial offer news are now going to seek out buying opportunities.  Those will present themselves when we see a technical reversal.  I suspect that a SiriusXM in the $3.20's will be a very attractive buy.  Time will tell.
The charts are all bearish.  Early signals of a reversal will come with high volume on an up day.
Volume

Support and Resistance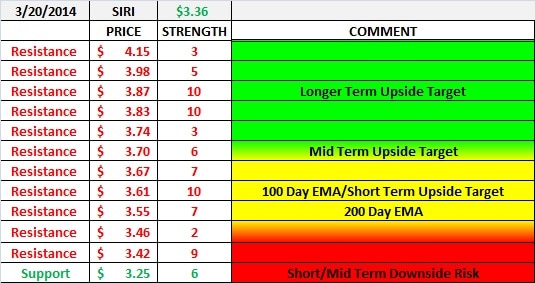 Exponential Moving Averages