SiriusXM moved up on the holiday with low volume.  The equity has pretty much held the line.  It did dip below $3.90 on Friday, but the action Monday brought it right back up.   What we currently have is a wall at $3.97.  This area has been tested a few times now.  What we want to see is a break through on higher than average volume.  The challenge of having a wall there will be rewarded by becoming a support level in the weeks ahead.
The conference call is just over a week away, and the company should be very capable of posting some great numbers.  Combine the strong place SiriusXM is now, with the government shut down, and we can see some real potential on the combination of a resolution with the shutdown combined with positive company metrics.
The Support and resistance looks good.  I mentioned the resistance at $3.97 already, so now lets look at support.  The very strong support is at $3.84.  We want to stay above $3.90, but if that can not happen, we want to hold the line at $3.84.  Keeping above $3.90 is important for one reason.  That reason is the EMA's.
The EMA's are all green.  To me it looks like we have them coiling a bit, which could help the upside.  The 5 and 13 day EMA's are at $3.90 with the 20 day just a step behind.  The 50 day sits 10 cents below the 5 day.  If we stay in the current price range, the 50 day will close the gap further.
Volume
Support and Resistance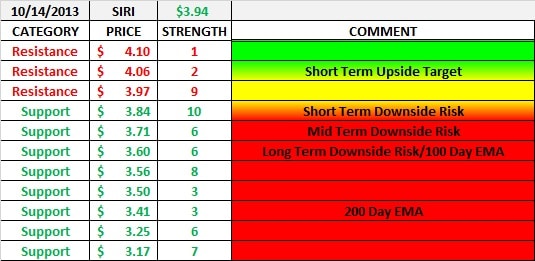 Exponential Moving Averages