SiriusXM closed up today on lighter volume.  The move appears positive, but is actually very neutral and not indicative of anything other than that we are possible sitting at a consolidation point.  It is possible that we test lower if we break the 100 day EMA at $3.73 or so.  It is also possible that we consolidate here and establish a trading range between $3.73 and $3.84.
The volume today was light again, but shy of being in the 20 millions.  What it looks like we are seeing is a consolidation of the EMA's, possibly in the low $3.80's.  Once that consolidation happens we will be poised for a bigger move in one direction or the other.  We are a few trading days from setting the Liberty media sale bar price.  I suspect that we consolidate until mid next week in the trading range mentioned above.
The EMA's still have 4 warning flags.  We are actually closer to establishing a 5th than we are to erasing one.  The next warning flag will arrive if the 13 day EMA at $3.85 falls below the 50 day EMA at $3,84.  This could happen if we see a two or three cent dip tomorrow.
A brief reminder....auto sales are on tap.
Volume
Support and Resistance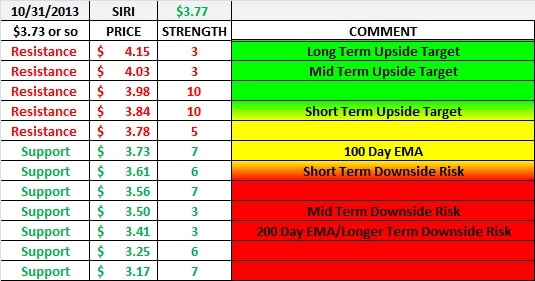 Exponential Moving Averages