Before getting into the meat and potatoes of today's article, I wanted to make a couple of announcements.  It appears that the Bullet Point Posts are something that readers are finding helpful interesting and worth while.  Moving forward I am going to number the bullet points so that there is no confusion out there.  Thus far I have had four bullet point posts.  The next Post will be titled Bullet Point 5 and the counting will continue from there.  Secondly, I was asked about email updates when a premium article is published.  We had assumed that this would be a request, and are working on that.  This way you will get an alert on Bullet Points as well as articles.  With that in mind, are there other features you would want out of SiriusBuzz Premium?
I try not to ask members for much, and will never seek donations, etc., but we want this service to grow into something that makes it as viable as possible.  We are not attempting to make a living on this, but at the same time want the efforts to be worth while.  You can help that happen.  Comments by members on the free posts about the premium are helpful, as is spreading the word.  If you like the service let others know.
Okay, down to business.  Today we saw very predictable behavior from the equity.  Volume was moderate and not substantial enough to really break support or resistance.  We did tip the proverbial toe below $2.55 support, so that is noteworthy.  Especially with a gap at $2.50.  SiriusXM bounced off of support and bounced off of resistance.  Note that it tested resistance three times, and really only tested support once.  Again, this is something notable.  It also closed at the high of the day, and right at Resistance.
I am bullish right now because there are a few things that will play out in my opinion next week.  Auto sales were down from last month (normal), up from last year (expected), but will have one of the highest SAAR rates of 2012 (not expected).  The auto sector is looking quite positive and this bodes well for SiriusXM.  Secondly, I am anticipating that CEO Mel Karmazin will announce new subscriber guidance and subscriber numbers.  All of that news will be framed in a positive light.
Volume
We saw moderate volume throughout the day.  Nothing exciting and nothing dangerous.  Essentially we had a mini consolidation happen.  As the closing hour came into play the volume did pick up a bit and the equity seemed to want to rise up, closing at the high.  Volume finished off at average, but lower than the previous day.  We saw testing of both support and resistance with no real conviction behind the tests in terms of volume.  SiriusXM did poke at $2.60 a few times, which is worth noting.

What we want to see next week is SiriusXM get above $2.60 with some conviction.  In my opinion, it needs to be more powerful than the 13 day average volume of 71 million shares.  That type of volume can make levels above $2.60 more real.  The more power behind an upward move the more strength $2.60 will have as support.  Be cautious on fast moves.  Those use strength and energy but lack endurance.  We want endurance here in order to hold it.  A pop to $2.75 would be great to see, but virtually meaningless if the equity settles back down to $2.60.  If you are an active trader, watch volume closely and do not get too greedy.
Support and Resistance
The chart is very much the same, but we are now getting ready to enter uncharted waters.  SiriusXM sits right at the support/resistance level of $2.60.  This equity seems to have a habit of doing things like this.  While it may seem to show uncertainty, it is the reason we look at several indicators.  Note that there is nothing in terms of resistance between current levels and $2.75.  It does not mean that there will not be any levels there.  There is simply not a lot of data to work with, and thus we need to wait for the market to help establish these levels.  News is key now, and I think there is positive news on the horizon.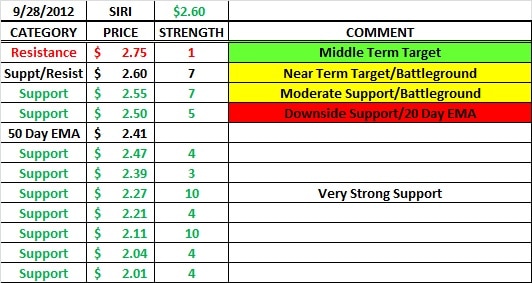 What we want to look for is the initial behavior of this equity on the market opening Monday.  There is a possibility that this equity marches down to test $2.55 again, but do not bite on that bait unless it is on substantial volume.   I can actually see this doing sort of a reset and dropping a couple of cents early in the session.  If it happens I will not even blink an eye.  We want a running start at $2.60 again, and we want to pass it on at least 75 million shares.
Exponential Moving Averages - EMA's 
These are setting up nicely.  We are seeing the spread between the averages build, and seeing some comfort in the numbers here.  This is good.  I want to call your attention to the EMA levels as they compare to support and resistance levels.  The 5 day average sits at the first level of support, the 13 day average sits just above the second level, the 20 day sits on the second level, and the 50 day is moving up.  Can you see the protections to the downside here?  Now look at the next level of resistance and all of the real estate and lack of hurdles.  The easier path is up.  Hopefully you can see that.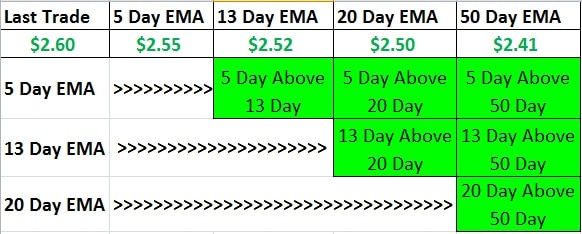 What we want to see is a continuation and confirmation.  We want to see this equity begin to stretch like a cat just waking up from an afternoon nap in the sun.  It rises, arches its back, the leans forward and stretches its front legs, then leans back and stretches its back legs.  It is a build-up to higher levels.  The stretching allows the cat to jump at a moments notice.  We want to see this get to $2.65 or so, then $2.70, then $2.75.  If it jumps fast, it may need a rest.  If SiriusXM can close Monday at $2.65 on decent volume, the EMA's would all appreciate it by at least a penny.  A good sign.
Summary
I am bullish.  I am expecting news.  I see a lot of safety nets below to ease my worries.  I see a lot of real estate above.  Right now the caution flags are all put away.  The right news lets us taxi this plane to the runway.  No news may see us having a slight delay due to air traffic.  Enjoy the weekend!