Well, it would appear that 2013 will start off SiriusXM below $3.00.  many investors had held out hope that $3.00 would be the baseline for starting off the year.  the equity got close, but in the end it simply was not enough.  While there is disappointment, not all is lost.  2013 has a lot of promise.  It will simply take time to pan out.
Volume
SiriusXM is seeing volume creep up, and at this point is getting close to normal levels.  The problem currently is that the equity is drifting down.  The first thing we want to see in 2013, regardless of the initial direction the equity takes, is volume and trading to normalize.  With the holidays behind us this should be able to happen.

Normalized volume is in the neighborhood of 60 million shares.  With 47 million shares traded in the last session we are getting closer to normal volume.
Support and Resistance
We have a small change here , and it is good news.  We have established a support level at the all important $2.87.  Now this price represents support in the classical sense as well as the 20 day exponential moving average.
Key levels are $2.83, $2.87, and $2.95.  Watch these levels closely and remember we have a bearish bias lately.  This means that if $2.87 fails to hold that we may very well be in store for a test of 42.83.  It may not happen in 1 day, but that is the direction this is headed.  It is why I am being patient about buying into the over core level 2 position with cash.  Pay close attention.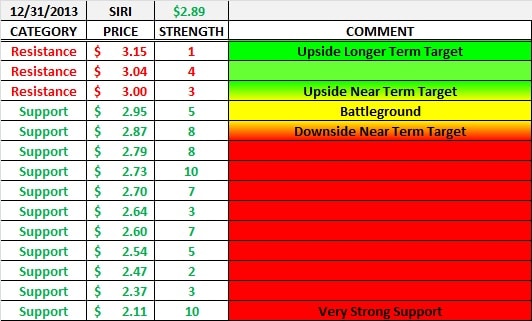 Exponential Moving Averages - EMA's
The EMA's are getting tighter.  We are fast losing wiggle room between the averages.  Take note of this.  A close down will bring on a second warning flag.  In contrast it will take a close above 42.90 to remove caution flags.  The coiling of EMA's is starting to happen.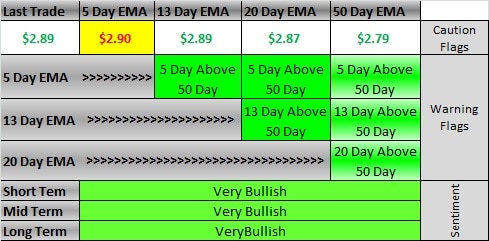 Mock Account
The mock account has some dry powder.  If this equity breaks $2.87 I will be watching volume to establish a possible buy.  If the equity goes above $2.95 I will do the same.  Essentially I am willing to give up some movement on the upside to see if the move is serious.