It has been a lengthy process, but SiriusXM is finally showing signs of a slight bullish stance.  For an equity that has been beaten up as of late, this can seem like a very bold and good thing.  Auto sales in April were good, and showed that the year can come in at over 16 million, but they are not yet setting a blistering pace based on pure demand.  Incentive spending is still up a bit, though getting better, and discounting is still higher in the auto sector.
From a technical standpoint we are now leaning slightly to a bullish stance.  We have removed all but one caution flag and two warning flags are also gone.  This did not happen on huge volume, so your excitement should be somewhat muted.  Support below is still not very strong, so we need to keep a level of caution here.  The next resistance target is $2.27 or so.  If the equity can close above that, we have a shot to start a run to $3.39.  The bigger goal is to get above the 100 day EMA at $3.40 and the 200 day EMA at $3.45.  We want to see the 100 day EMA cross back over and get above the 200 day.  That will take several trading sessions above $3.50 to happen.
As frustrating as it is, we need to see this equity make its strides in steps.  Take of the $3.20's, then take out the $3.30's, then the $3.40's and so on.  The $3.30's are going to be the big challenge.
Volume

Support and Resistance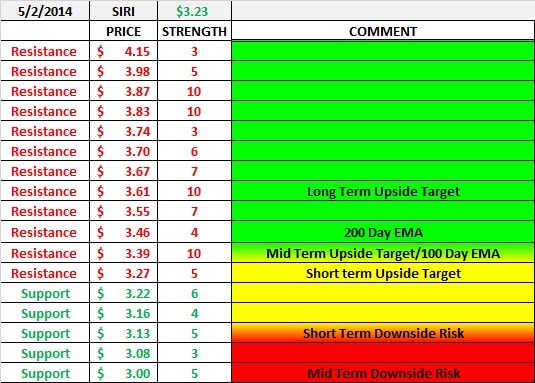 Exponential Moving Averages