If you are long SiriusXM you likely appreciate the action at the close.  After displaying some weakness early in the session the company rallied on decent volume and posted a painted close at $3.14.  While it did not demonstrate the ability to pass $3.15, and lacked the volume to do so with authority, it did make a pop at the end of the day.  Head fake or setting up something bigger?  Tough question.  Make no mistake, this equity is all bullish from a technical standpoint right now.  It is just a matter of when it will make a nice run.
I am looking at today's action and feeling that the $3.25 target I established several months ago is getting ready to come into reality.  In fact, I am getting to a point where I am thinking about pulling the trigger on the mock account to fill my level 2 over core position.  I feel that SiriusXM will have some pretty compelling news events in the coming days and at this point the signals we are seeing are about as good as it can get for the time being.  I will watch the early action tomorrow, decide then, and post the trade if I do it.
Volume
The volume today was pretty good.  Higher than yesterday, the 67 million shares traded today as the equity moved up was a small step in the right direction.  While $3.15 will still present its challenges, the action in trying to pass that level is serving to establish a good foundation above $3 and is also bring up all of the moving averages.  These are positives.  There is no guarantee that SIRI will stay above $3.00 all year, but if the bears come out we will know ahead of time thanks to the technicals.

What we want to see is volume of 75 million shares or more, the equity pass $3.15 early in a session, and hold it through close. Easier said than done.  This equity sometimes walks a fine line and has an ugly habit of painting closes.  It is my belief that it will take a few tests of $3.15 before the next leg up unless news creates a spike.  Be ready!  The company is speaking soon at a conference, CES is happening, and of course Liberty Media could be setting up for some action as well.  Positives signs essentially have me close to being all in on the mock account.
Support and Resistance
Support and resistance is looking good.    The equity traded a good chunk of the day at right around the $3.10 level.  The close has now made $3.10 support.  The support down to $3.00 is not real strong as yet, but there will be added strength at these levels if SIRI can get past $3.15.  Resistance at $3.15 is not so strong that it is a brick wall, but bis is strong enough to not really allow the equity to pop above it unless news is happening.  I am anticipating news sooner rather than later, so I am watching closely.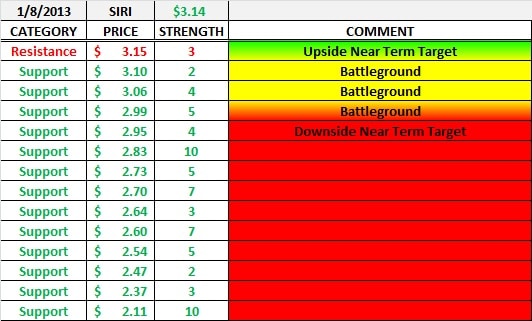 Key levels are $3.06, $3.10, and $3.15.  We have a bullish bias, so the equity does seem to be gaining traction a penny or two at a time.
Exponential Moving Averages – EMA's
The EMA's are all green, all bullish, and creating an upward trend that we need to pay attention to.  There is plenty of wiggle room before anything points bearish, so monitor closely and get cautious if SIRI drops to $3.08 or lower.
What we want to see here is the equity as many moving averages over $3.00 as possible.  Right now we have the 5 there, the 13 knocking on the door, and the 20 close behind.  SIRI has a tendency, when it settles down, to trade between the 5 and the 20 day average.  Getting the 20 day EMA above $3.00 would be a victory!