You just gotta call what you see...even if you do not like it.  On a day when the Dow, NASDAQ, and S&P are all in the green, SiriusXM finished in the red on volume higher than the previous session.  The silver lining is that the volume was not huge, but that offers little consolation when you look at the possible near term trend.
We are now entering the time of the year where SiriusXM simply drifts along.  There is no real positive catalyst, and no real news that is company specific.  SiriusXM will simply drift with a current.  One underlying issue is that we have already established that Q4 will not look pretty.  We have the new GM deal throwing a wrench in the subscriber numbers.  We have the costs of an acquisition.  We have the costs of a satellite launch.  All of these things will be a drag on this equity in the coming months, and more specifically in the next quarterly report.
Until today I had held some faith that there is enough longer term potential to keep people in the game.  It now looks like this equity may be one that is in for some pain before the picture turns rosy once again.  Yes, the equity saw a small pop at the end of the day.  However, that pop was not good enough to hold Friday's close.
We need to keep the downside on the radar screen.  It may appear that I am being negative, but I am doing this against a backdrop of the Q4 impacts spoken about above.  Better to understand these dynamics than to put our proverbial head in the sand.
I have $3.63 as near term downside risk now with $3.60 in the mid term.  The longer term downside risk is at $3.50.  That also happens to be the 200 day EMA.   The equity is currently trading below the 100 day EMA.  The longer it stays below this, the more bearish the picture becomes.  I feel support at the 200 day EMA will be quite strong.  Thus, from current levels there will likely be buying opportunities in the coming weeks.
The EMA's are all caution flags and warning flags.  We added a warning flag today.  In my opinion this equity is not going to take a sprint up, so do not feel rushed into a buy.  Better to bide your time and watch the technicals play out.  If you are in, is it worth a sell here?  Perhaps.  I had said a couple of weeks ago that breaking below $3.67 was a sell signal.  The question is whether or not this stops at $3.60 on the downside.  The 7 cents between current levels and $3.60 may not be worth the risk.  I do not want to warn of $3.50 yet, but a break of the $3.63 would most certainly boring about $3.50 if it happens on big volume.
Volume 
Support and Resistance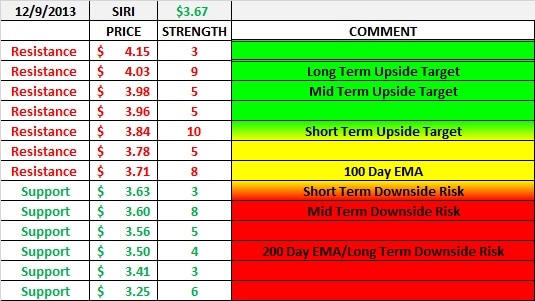 Exponential Moving Averages