This is not the prime position to be in, but it is the hand we are dealt.  SiriusXM is showing some potential signs of life headed into the quarterly call this Thursday.  From a technical standpoint SiriusXM is on a bubble.  If the quarterly call is well received, the company can move upward.  If the call is not well received, it can burst and we see a correction down below $3.00 per share.  It is really that simple.
The biggest factor here is not so much the numbers themselves, but rather how they are presented and dealt with.  The biggest risk is the subscriber number.  Last year Q1 delivered 453,000 subscribers.  This year the number is much more likely to be 153,000 because of the GM deal.  The company seemed to gloss over the change in the GM deal with the annual report.  The fact that the company lost 38,000 subscribers last quarter was lost in the mix of overall annual numbers.  Let's face it.  If the company is anticipating 1.2 million subscribers this year, starting off at about 200,000 will not send confidence through the street.  In my opinion, the company needs to paint a picture for the street on how guidance will be met.
Tomorrows report from me will get into more of the quarterly estimates.  Now to the technicals.
SiriusXM actually is in a situation that could turn the technicals more bullish if we get follow through.  We saw a caution flag fall off of the EMA chart, and are on the cusp of seeing a warning flag fall off as well.  It will take a close above $3.16 to get to that point.
Volume
Support and Resistance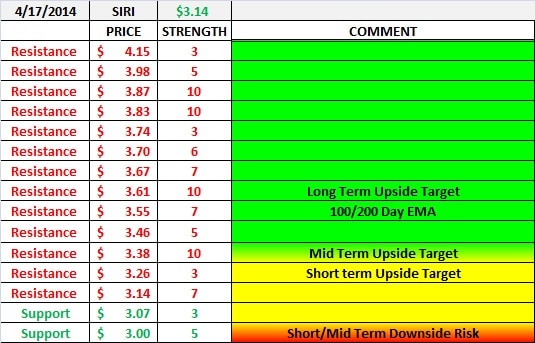 Exponential Moving Averages