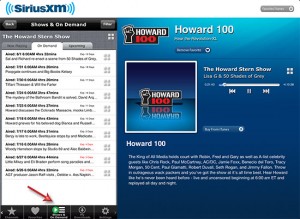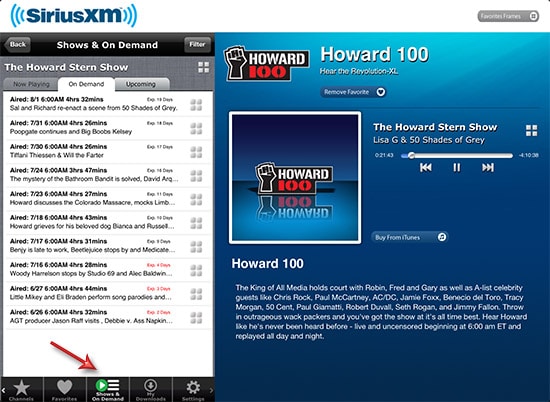 There's an App for that.  It was a genius marketing move by Apple when the company launched its iPhone, and it still applies today. Apps have a massive place in the daily lives of millions of people and SiriusXM (NASDAQ:SIRI) could capitalize on that in a substantial way.   No, I am not talking about a SiriusXM app on smartphones or tablets.  I am talking about SiriusXM taking its business model to the next level by incorporating apps within its platform.
In some ways this exists already, but at a very basic level.  If you think about it, the touch screen on a vehicle dashboard or smartphone that allows you to change channels is an app.  You hit the channels button and it takes you to the appropriate channel.  It is pretty simple, yet at the same time powerful.  Taking things a step further could be downright impressive and a true game changer.
Consider this.  SiriusXM has a programming deal with the NFL.  They broadcast every game each week and it is valuable content to subscribers.  It allows someone that does not live in the market of their favorite team to follow that team in a meaningful way.  SiriusXM's NFL deal was revolutionary when it was first launched last decade.  However, over the past few years it has gone from revolutionary status to simply good.  Yes, I said it.  The SiriusXM NFL coverage is not what it used to be.  It is not because the games are less meaningful, it is because SiriusXM has been slow to take its content deal with the NFL to the next level.
Consider what Verizon is doing.  They have an exclusive deal with the NFL to offer mobile video of each and every NFL game.  They developed an app that gives consumers easy access to not just games, but other content as well.  Switching for game to game is easy, and with video, it is a very compelling service for any NFL fan!  I have made it no secret that I utilize Verizon to get my NFL coverage when I am on the go.  It is simply a superior user experience in every manner.
While that may seem like a slam to SiriusXM, and it some ways it is, I prefer to think of it as that the company has so much more potential with its content than meets the eye.  One of my key frustrations with SiriusXM's NFL coverage is that there is no easy way to navigate from game to game.  I am often on the go, and sometimes can not stop buy my computer to figure out which channel the Patriots are playing on this week, and which channel the Jets are on.  I found myself in my car trying to navigate through channels to find the game I wanted, and then to get an update on another game doing the search again.
What If the SiriusXM NFL coverage had an app?  What if pressing that app button launched a screen with the logos of each NFL team?  What If when I pressed the Patriots logo I was brought directly to the Patriots game without ever having to worry about a channel number?  What if I could take it a step further and have a few icons on the screen to switch back and forth between games?  That would present a far superior user interface than we have today.  Essentially, the content is great, but the user experience could be vastly improved.  Now apply the same logic to other content.  What if this was applied to baseball, hockey, basketball, news, music, and comedy?
Simple apps could make SiriusXM even bigger and better!  Here is another novel idea.  In cars, use the full extent of the modern touch screen dashboard.  By example, when I get into my car it knows the settings of my seat, the steering wheel, and mirrors.  It knows this because I am Driver #1.  My girlfriend is Driver #2 in my car, and she has her own preferred settings.  When she gets into the car she simply hits a button and everything adjusts to her settings.  Why not do this with satellite radio?  It could even be applied to a retail radio like the Lynx.
Imagine getting into your car, pressing the ignition button and seeing the SiriusXM logo burst to life on the screen.  Upon that screen are two app buttons labeled Driver #1 and Driver #2 (or they could even be fancy and allow you to name the drivers).  If I get in the car I hit driver #1 and all of my favorite presets are there.  My favorite music channels, talk channels, and even the audio settings I like to use.  If my girlfriend gets into the car, she can simply hit Driver #2 and have all of her settings in place.  This is a simple concept that can take SiriusXM to the next level!
Hopefully the company is working in this direction and likely they are.  From a consumer standpoint SiriusXM needs to get onto a faster path to making these types of things happen.  I like SiriusXM for what it is, but am excited about what it still can be.  Yes, I am sometimes highly critical of the pace at which this company moves on the innovation front, but it is because I see other companies moving faster, and know that there are capabilities to not only keep up, but perhaps once again get to the days where this company is the innovator.  I miss those days, and think that SiriusXM needs them back.