It was looking positive, but it turned quickly.  I warned that breaking through the $3.23 and $3.18 level could spell danger.  If you are nervous about what happens next, you are in the company of almost anyone invested in this equity,
This move was ugly an happened on volume.  151 million shares changed hands on a massive downward move.  This CAN NOT be ignored.  There is pressure to see this equity drop, and in my opinion little that is on the table to stop it.  Even the company can only buy back 25% of the volume in any given day.
We need to see this volume dry up.  This has the appearance of a take-down under the disguise of macro-economic news and uncertainty.  I am saying that, and I am not big on conspiracy theories.  If another day of 100 million shares happens, we need to start watching the 200 day EMA at $3.00 and (god forbid), the gap at $2.91.
You need to pay close attention to support and resistance.  There are three substantial walls above now.  These walls can limit upside moves and the speed at which this equity can recover.  The first wall is at $3.18.  The second wall is at $3.25.  The third wall is at $3.35.  The only real strength below is at $2.99, which happens to be the 200 day EMA.
If you are an active trader the current levels get REAL interesting.  The equity can certainly break the 200 day EMA, and in theory, it should not go much lower.  It could be a very attractive entry point.  This equity seems to fall into that "summer lull" every year.  I see no reason why SIRI wouldn't recover from the low in 3 to 6 months.  A move from $3 to $3.50 or more could be an interesting play.
The EMA's threw up another warning flag.  It is not pretty in the short and mid term.  Watch for volume to dry up on the downside as a signal of a bottom.  From there we can reverse, but it could be a long walk up to full recovery.
Volume

Support and Resistance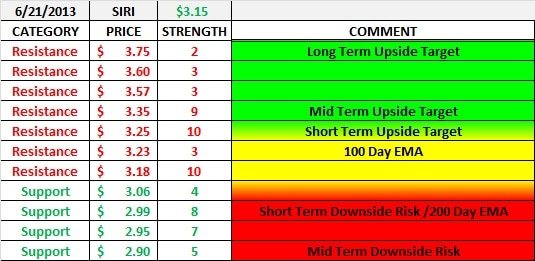 Exponential Moving Averages