SiriusXM is getting ready to do its Q1 call on Tuesday morning.  This leaves 1 trading day for the action to set up prior to the street seeing the numbers.  I anticipate that there will be a run of sorts going into the call, but the key this quarter is the volume.  Even with good numbers, a move needs to happen on volume if it is to hold.  There will be opportunity here for savvy traders.
Volume
SiriusXM closed Friday at $3.12 on light volume of just 25 million shares.  This is lighter than I would have anticipated, and to me gives a hint that this equity has its work cut out for it to pass and maintain new highs.  The SiriusXM story is fine, but right now it is not SEXY.  There is positive pps appreciation on the horizon, but we are looking at 20% gains instead of a more sexy 50%.  That meas it is challenged in getting the quick speculators to jump on board.  Simply stated, there may be better plays elsewhere in the market.

Support and Resistance 
As stated, look for a good quarter, but nothing that sets the world on fire.  Many of the technicals are now looking bullish.  The timing could not be better.  In my opinion this is setting up for a pop to 52 weeks highs, but as stated, the volume will tell us how serious or permanent the move is.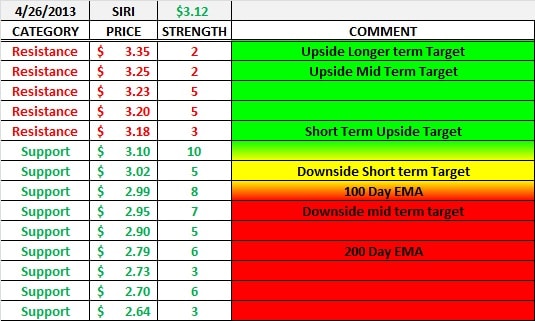 Exponential Moving Averages
All green!  The timing on this is a pretty cool thing to watch.  What I am looking for is a move up on at least 70 million shares for a few days in a row.  If the move up does not carry volume then we will simply establish a new trading range.  We will either have a range between $3.10 and $3.25 or one between $3.18 and $3.35.  Volume will tell the story.  Stay tuned.