Well SiriusXM (NASDAQ:SIRI) came down a bit from the highs of yesterday, but the stock performed well.  Volume was much lighter than Wednesday but was still well above average.  While it is hard to say things are looking fine on a down day, that is exactly where we are at the moment.  I would still like to have more data to work with in this range, but alas that is not the case.
Volume
As stated, volume came in well above average which is a decent sign.  Despite being down, this volume helps to establish the relative strength of support and resistance levels, which in turn give us a better understanding and ability to predict behavior.  One key to watch for in the coming days is how quickly volume tapers off, and where volume bottoms out.  Again, this is something that helps to reinforce other indicators.

Support & Resistance
Here things get a little bit interesting.  There are a few things that happened today that we want to make special note of.  First was that Sirius XM was unable to go to $2.50 today, and the open was only a penny lower than the high of the day.  Second was that Sirius XM had a low of the day of $2.33, just below the key price of $2.35 I mentioned in yesterdays report.  Third, Sirius XM closed at $2.40, just below the highest level of support/resistance identified in previous reports.  What does all of that mean?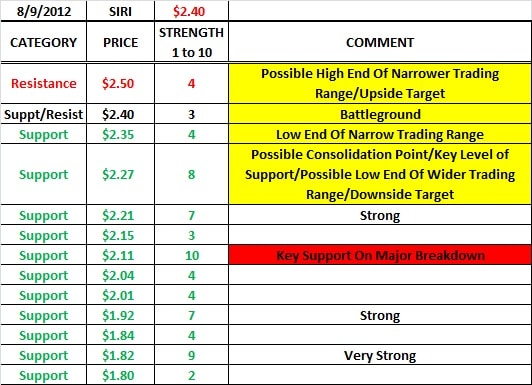 I still see $2.26 or so as a possible consolidation point that will establish the next foundation for SiriusXM.  The company has not had enough "experience" at current levels to to hold that line.  It does not mean that it was not deserving of getting to $2.50, it simply means that the levels there need some testing and confirmation.  For hose that subscribe to the "short" influence and a "short squeeze", todays action put an end to that process if it indeed existed.  Beware, the equity was a prime short candidate in yesterdays trading.  Shorts do not simply disappear, they play the ranges.  Sirius XM essentially bouncing off of $2.35 was a good sign for that level.  The strength of that level is not huge, so that is why I am holding to $2.26 as a consolidation point.  In my opinion $250 now represents resistance with $2.40 developing into that as well if the equity can not hold the line.  Resistance is not so strong that it can not be broken with more decent news, so an upside potential of $2.50 is not out of the cards.
Exponential Moving Averages (EMA's)
The EMA's remain in a bullish stance with a lot of wiggle room.  In fact, there is as much as a dime that sits between the 5 day and 13 day averages!  While wiggle room like this is nice it does not come without caution, and this is one of the shortcomings of EMS's for active traders.  The stock could actually begin a bearish trend and the EMA's would not pick it up for a few days, taking away precious percentage points from an active trader.    This is why I am such a stickler on looking at more than one technical indicator.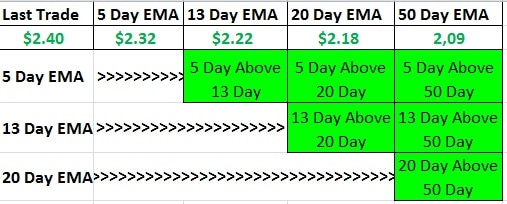 As you can see, the equity could close down another 8 cents tomorrow and it would still be exhibiting all bullish signs from an EMA standpoint while it would have broken two support levels.  However, the combination of technical indicators gives us a picture that is more clear.  The goal for tomorrow is to close above $2.35.  If the equity can do that it will add support at that level.
Valuation Multiple
As I have stated, when Sirius XM gets above a multiple of 20 it has had a tendency to sell off.  It tends to appreciate on a multiple of 15. Sirius XM tested the multiple of 20 (excluding the impact of NOL's) and sold off.  bThe interesting dynamic will be seeing if the NOL issue allows the equity to trade higher with a smaller premium.  By example, Sirius XM could trade at $3.00 and have a multiple of 20 if we include the NOL's.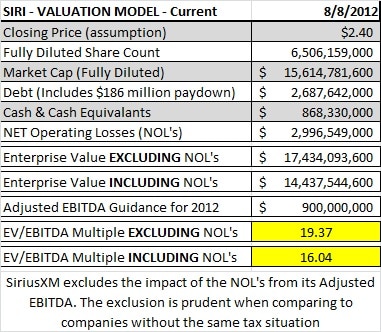 Right now the equity is at a multiple of 19 and 16 respectively.  Watching this segment of the analysis develop will be interesting.
Summary
Upside target in the short term is $2.50.  Low end target is $2.26.  Look for a narrow range between $2.35 and $2.45 and a wider range of $2.26 and $2.50. These ranges will gain better definition over the next several trading days.