There are times when a down day can be good news.  Today was one of those days.  The consolidation type action and volume we have been seeing has finally given us a nearby support level with some strength.  That level is $3.78, just below the closing price.
SiriusXM came down on lower than average  volume and volume lower than the previous session.  Essentially things bode well.  In fact, even if we were to dip again tomorrow I would define the move as being good (provided it does not happen on higher than average volume.
The support level at $3.78 is fairly strong and will help to provide a foundation for future moves up.  If the equity passes below it, it will provide a bit of a hurdle.  I would characterize the support at $3.78 as young but strong.  That means that it is not insurmountable in either direction, but the longer it exists, the more it will mature.
Volume 

Support and Resistance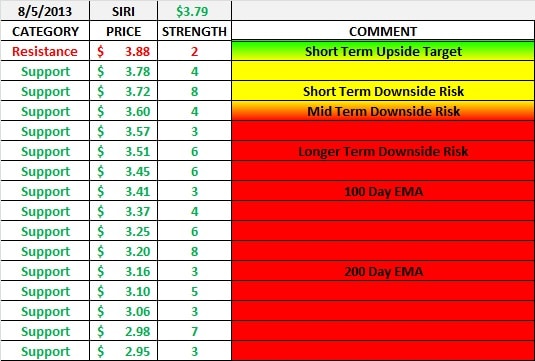 Exponential Moving Averages