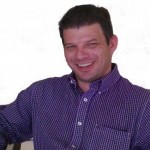 Earnings is only 24 hours away for SiriusXM (NASDAQ:SIRI) and the company stock looks poised to test $2.20 yet again.  Friday saw a nice appreciation in the stock, but as is the case with the last week, volume was not quite up to par.  It seems many are waiting on the call to determine whether or not to trade the equity.  In many ways, such a strategy makes sense, but this call may prove interesting.
Already there are articles posing the theory that a year over year EPS will be down 33% (from 3 cents to  2 cents).  While the street is expecting 2 cents, it is quite possible that 3 cents is in the cards.  Bear in mind that last years 3 cent performance came on the Canadian merger.
VOLUME
As I stated above, volume has been low.  SiriusXM traded 30 million shares on Friday, well off of the average pace of about 51 millon that we typically see.  Is low volume a new trend?  I doubt it.  More likely than not we are dealing with the combination of consolidation and the upcoming conference call.

What we want to see is some volume to set the stage for the next move.  For bulls, you want to see SIRI topple $2.17 and then $2.20 on high volume.  For bears, you are looking for $2.14 and then $2.10 to break on high volume.  That is the volume story in a nutshell.
SUPPORT & RESISTANCE
The action on Friday served to reset the support and resistance story slightly.  While all levels remain essentially the same, there is a new battleground in play between $2.14 and $2.20.  SiriusXM happens to be sitting right in the middle of it.  As we head into the call, I have been anticipating a high volume day.  It does not look like that will be in the cards.  Even a move after the SiriusXM call is questionable at this point with Liberty Media (NASDAQ:LMCA) reporting the next day.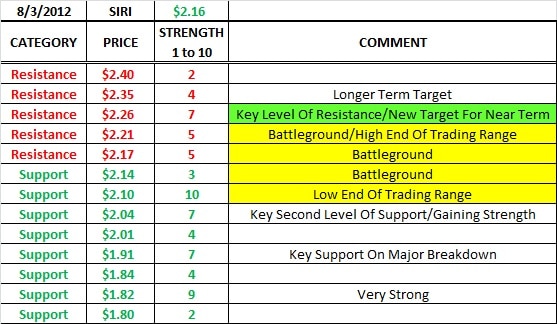 The key here is the battleground between $2.14 and $2.20.  If Sirius XM can eclipse $2.20 prior to the call, my short term target of $2.26 is well within reach.  It will not be an easy task, but the equity has tested this level twice lately.  Will the third time be the charm? Only today's action can tell us that!
EXPONENTIAL MOVING AVERAGES (EMA'S)
The EMA story is once again all very bullish thanks to the strong price move Friday (albeit on lower than average volume).  The only real problem with the EMA chart is that it lacks any real wiggle room at the 5 day mark.  The 5 day EMA sits right at $2.14, a technical support level only 2 cents below current trading levels.  SiriusXM squeaked out a close at $2.16.  Had that not been the case, we would only have one penny to work with.  We are looking for a close of $2.16 or better to maintain the current status, or $2.18 or better to improve.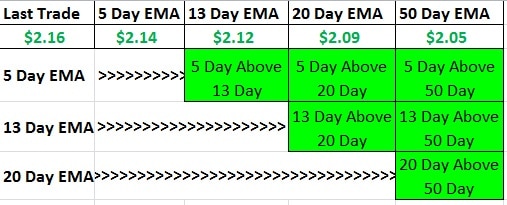 SUMMARY
To get bullish all the way around we want to see volume of at least 40 million shares, and that volume is still actually weak.  We want to see a close of $2.18 or better to maintain EMA bullishness.  While it would be great to topple $2.20, if it does not happen on volume of at least 60 million shares, we will still have to look into the rear view mirror at support levels less than $2.20.  Happy trading.