More back and forth.  SiriusXM was down today on light volume.  The see-saw continues, as does the consolidation, as does the coiling of the proverbial spring.  For today's action I had called a low of $3.67 and a high of $3.74.  I was off by a bit.  The low of the day was $3.66 and the high was $3.74.
It is looking that the EMA's will fully consolidate at between $3.66 and $3.69.  We are getting to the coiled spring that we want to see.  The full coiling should be able to happen this week.
The key points to watch now are $3.69 and $3.61.  Pay attention in particular to $3.69.  What we want to see is this equity get itself above $3.69 in time for the spring to let loose.  That factor is perhaps more important than anything else.
Volume

Support and Resistance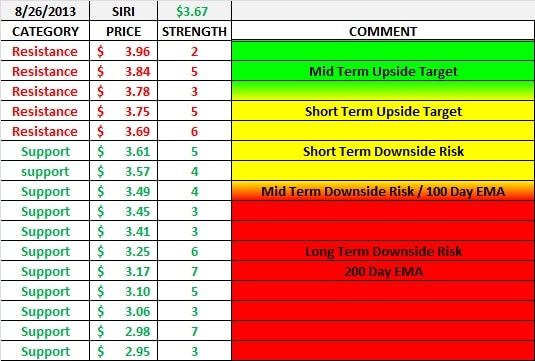 Exponential Moving Averages