I had a death in the family Thursday Evening.  I have been traveling.  The funeral was today, and I am now back home.  Today SiriusXM did not fare well in the market.  We had above average volume and the equity was down substantially.  the EMA chart is all negative and all caution flags again.  We have to face the reality that this equity may actually visit the $2's.  The silver lining is that from a fundamental standpoint this equity is well oversold and should be at or near a bottom.  The operative word here is "should".
From a technical standpoint things do not look very strong.  This equity is showing bearish signals and showing them on volume.  Yes, the volume today was lighter than we had previously seen, but it is still above average.  It is not as bad as it was, but then again, it is.
With the quarterly call coming up, and the subscriber number perhaps being an unfair focus, we should be very cautious of the $2's.  I have had quite a bit on my mind of late, and quite a bit of travel.  The charts are below.
Volume

Support and Resistance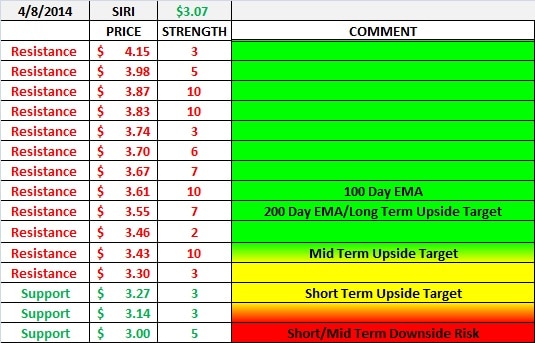 Exponential Moving Averages