For the first time in a while we have a glimmer of light with SiriusXM.  The trading action today removed a warning flag from the EMA chart!  Yes, you actually read that correctly.  It seems like SiriusXM has been on a negative slant for months.  This is the first bullish indication in a long time.  I understand the frustration many investors have had.  I really do.  You are a member here because you want to hear it like it is...not hear someone tell you what you want to hear.  SiriusXM is a boring stock right now.  The sex appeal left this equity when Liberty pulled its offer off of the table.
Today SiriusXM was a success in bringing the equity high enough to remove a caution flag.  Better yet, it happened on higher volume.  This bodes well.  The EMA's are actually setting up nicely.  If we close above $3.27, we will remove yet another flag.  This is what we want to watch for.  If a second caution flag can be removed, we may actually be able to challenge some technical levels.
Resistance is at $3.44.  The support is above $3.00.  The very short term move had a bullish bias.  It appears that this equity could be setting up for a move back up.  In times like these, I wish there was a catalyst to support the move.
On the Liberty front, things are still interesting.  Charter renewed its quest for a possible Time Warner deal on Friday, and while I do not believe that the Time Warner proxy will change anything, it will serve to support the Liberty stock price.  A stable Liberty price could see the company renew its SiriusXM quest.  I am anticipating that Liberty will allow the current buyback plan for April to play out and then assess options.  Do not be surprised if a renewed Liberty offer is on the table at some point.  Liberty is jockeying for position as well as value.
What we want to see is SiriusXM make the next move up to the $3.30's on volume above 7 million shares.  If SiriusXM can reset a foundation in the $3.30's, it could allow this equity to at least temporarily separate itself from Liberty.  It is my opinion that the street wants to see Liberty make its move.  For this reason I think a certain amount of tempered attitude is needed.
A final word.  Please have a little patience.  I follow MANY, MANY, MANY equities.  I write about very few.  I have chosen to add Arena Pharmaceuticals to the SiriusBuzz Premium coverage.  Many have embraced the concept of applying the analysis principals to yet another equity.  Some have not.  If there is compelling news in either of these equities, I will cover it.  On some days, the Arena technical report will be published first.  On others it will be SiriusXM.  I do not mean to seem gruff, but I could spend my time and energy doing other things that are more profitable and meaningful to me and my family personally.  Today I got the Arena article out before 5:00 PM.  I came home and my wife had decorated the house and made a special dinner in celebration of my birthday.  Instead of writing when I got home (like I normally do), I felt it prudent to show my wife appreciation and respect for her efforts.  I will keep members updated on a regular basis.  Sometimes a day may pass without a change.  That happens.  I want to say thank you to those that have been supportive.
Volume

Support and Resistance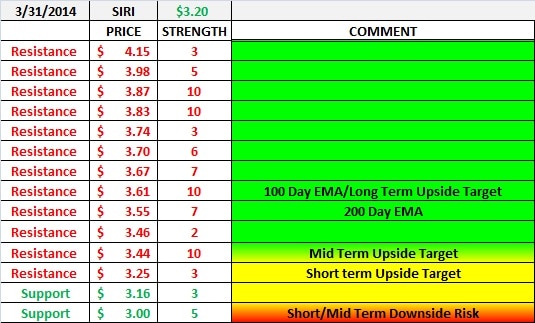 Exponential Moving Averages