SiriusXM dipped down into the $3.30's, but did not hold that $3.41 that I wanted to see it hold.  Despite that it is still bullish.  We have no warning flags, and one caution flag on the EMA's.  The caution flag essentially went up because the close was below that $3.41 I was speaking of in the last update.
The holiday weekend took some of the thunder out of the car sales news, but perhaps that is for the best after all.  I am anticipating that the company will have a good quarter and that the focus will be on how many shares that the company has bought back.
One thing that makes me nervous is that Liberty Media may soon be participating in the buybacks.  If Liberty makes a big deal about it, it can be a positive.  If Liberty does it quietly it can be a slight negative.  Consider this:
If SiriusXM were to be a buyer of 1,000,000 shares of its own stock, it would normally be buying those shares on the open market.  That would support the share price.  If SiriusXM were to buy 1,000,000 shares with Liberty participating, then the open market portion would be 500,000 shares.  That means that there would be less support provided in the open market.  Bear that in mind as we approach the point in time where Liberty may participate.
The biggest reason Liberty has not participated up til now is that they want to be able to select the lots they sell for tax purposes.  Liberty needs a year to pass so that they can sell the highest cost basis shares first.
What we want to see is this equity moving up on volume of over 50 million shares, and eventually above 60 million shares.  We want to watch $3.36 closely.  If it touches that we want it on lower volume.
Support is at $3.36 and then $3.29.  Watch $3.36 closely.  If this equity does happen to break below $3.29, the $3.25 is likely in the cards.  A move above $3.40 will allow a test of $3.50 in the next week or so.
The EMA's are all bullish with one caution flag that can disappear if the equity can close above $3.40.  Stay tuned.
Volume

Support and Resistance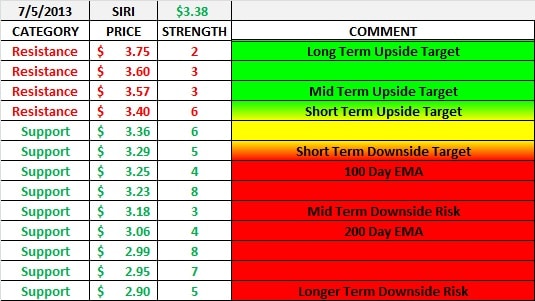 Exponential Moving Averages