Despite a little sell-off, SiriusXM is still exhibiting a bullish stance.  I had stated that it was important to stay above $3.40 through Friday.  The equity closed at $3.39.  While that penny may not seem like a big deal, it does impact things a little bit.  Essentially, by closing below the 100 day EMA, the equity has made a statement that it is not yet ready to make the run.  That being said, closes have been painted before, and the ingredients for a run still remain in place.
The volume used to take the equity down on Friday was higher than average.  Had it been light volume I would have said, "No Worries", but alas, we can not leave the $3.30's in the dust just yet.  The important action for today is defense.  This equity needs to hold above the strong support level at $3.37.  This will keep it above the 100 day EMA, and will serve as the beginnings of the eventual crossing above the 200 day EMA.
It would be more bullish if SiriusXM can get itself above the 200 day EMA right away.  That would be the "easy way" to test the $3.60's.  Right now we are in the hard way.
Volume

Support and Resistance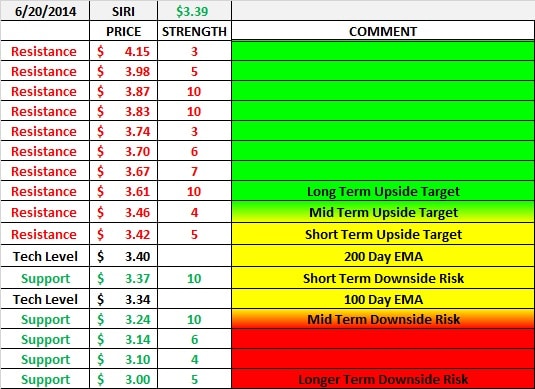 Exponential Moving Averages