SiriusXM can not seem to make the move needed to get into bullish territory.  It even tested the waters below the 200 day EMA today.  That is not good.  It is important that we keep $3.40 on the radar screen, because it is very likely the next critical point for this equity.  Yes, longer term there are many positives, but the short term challenges are not to be ignored.
The volume today was lighter, so that is a silver lining of sorts.  However, the testing of the waters in the $3.40's is concerning.  What we want to see is this equity hold the line at $3.50.  The company is in the midst of share buybacks, but right now, they are buying up Liberty shares, and that does not support the market because it is essentially a private transaction.  Adding insult to injury, the Liberty shares are priced higher than current market prices.
The EMA's remain ugly.  We have caution flags and warning flags across the board.  We are looking for the EMA's to coil up a bit and consolidate in the high $3.50's or low $3.60's.  In order for that to happen, we need to see this equity hold $3.50.  I have moved the short term downside target to $3.41.  I have not yet adjusted the range in the support and resistance chart.  I want to see what the action tomorrow brings.
If SiriusXM can not move up, the wall at $3.56 will gain strength and require a lot of effort to eclipse.  For tomorrow, watch the volume at $3.50.  If it is heavy, this equity could stumble.  Be prepared.
Volume

Support and Resistance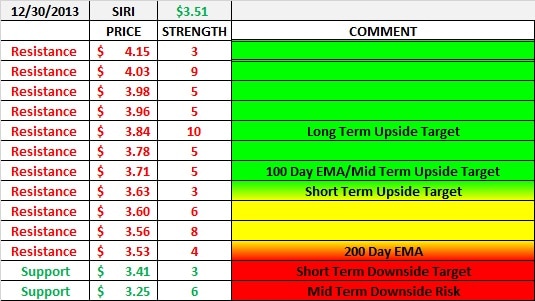 Exponential Moving Averages