The term rebound is likely appropriate.  After all, the NBA Finals are in full swing. SiriusXM came roaring back from testing the 50 day EMA and closed above the 20, 13, and 5 day EMA's.  This gives us all a bit more data to work with.  Essentially the equity can be reasonably expected to test the 50 day EMA, but that level will serve as strong support.  This is a great thing to know as we move forward into the summer.  Essentially the equity will probably spend most time between the 20 day EMA and knocking on the door of new highs.
When we see signals it is a decent indicator of a shift.  We simply need to follow that lead.  Right now SiriusXM is clearing warning flags and caution flags.  I look for that trend to continue.
Staying above $3.45 is critical right now.  It is the difference between clearing the bearish signals and setting new ones.  Volume was average.  The trip down happened on high volume.  So far the trip up has been on average.  Watch that volume closely.
Volume

Support And Resistance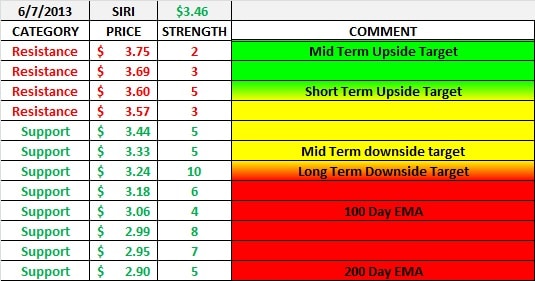 Exponential Moving Averages