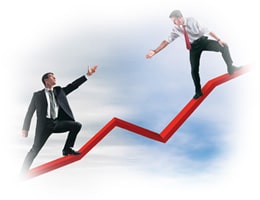 This technical update is being made available to all SiriusBuzz readers but, it will refer to some research available on the Premium site, so my apologies in advance if some of this seems confusing.  These types of updates are done on a very regular basis for SiriusBuzz Premium members, as well as Bullet Point Updates and other analysis.  SiriusXM (NASDAQ:SIRI) reached upward today on above average volume.  This is a move that I thought was possible after a test toward $2.40, but honestly thought would come next week.  The good news is that this move was on above average volume.  The bad news is that it was not quite strong enough to really test $2.60.  There is still plenty of time for that though.
As readers know, I watch several technical indicators but rely heavily on Volume, Support and Resistance, and Exponential Moving Averages (EMA's).  By monitoring several indicators we can oft determine the direction of potential moves, the strength of moves, or the strength needed to make a move.  In yesterdays technical update I stated that we wanted to see this equity break $2.55 on volume of  79 million shares and that the bullish longer term outlook was taking shape.  While the volume was not quite there, it is close enough.  This morning, with SiriusXM trading at $2.54,  I published a Bullet Point Alert and noted that the equity was testing resistance on high volume early and that I felt it would be successful in breaking that resistance.
With new data in hand it is time to analyze it and plan accordingly:
Volume
As we saw, SiriuisXM traded up on higher than average volume.  Not only did it trade up but it broke a key resistance point at $2.55.  While the volume was impressive, it was not enough for the equity to really test $2.60.  What we want to see is the volume continue to build as the equity pushes the $2.60 level.  It will take some strength (volume) to get through that level, but after that we are looking at some clear sailing.  Bear in mind, that clear sailing ins in uncharted waters.  Let's take one step at a time though.

While I tend to use the 200 day average volume of the stock as the main barometer, refinement on other average volumes is also important.  Notice that the recent volume (5 Day) is at 64 million shares.  That carries importance here because all of the recent moves have happened in the last week of trading.  If volume gets down below that, it could be the early sign of a run topping out.  With regular updates readers can get a real feel for an equity.  Without them, this nuance may not be very visible.  This is why, even though I do not actively trade the stock, I keep tabs anyway.  Essentially we are looking for is for the volume to continue its strength as the equity moves upward.
Support and Resistance
This chart is beginning to look quite interesting.  As you can tell, even with a quick glance, there is not a lot of resistance above.  That is an obvious reason why I feel this equity can test $2.75 in relatively short order.  Rather than focus on that, I want to focus on the safety nets below.  We now have a moderately strong support at $2.55.  We have secondary support, as well as the 20 day moving average at $2.50.  Those 2 levels of support should give some comfort to investors.  In the short term there is potentially a 15 cent move to the upside while there is safety at just 4 cents below and again at 9 cents below.  That could make this equity a buy for even those that missed an earlier entry.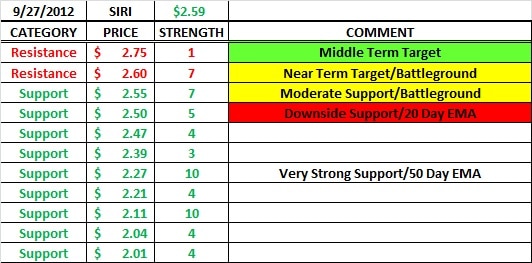 There are likely some asking why the equity would stop at $2.75.  The answer is that it may not.  That depends on several factors.  Let's break $2.60, then worry about $2.75.  What we want to see here is how the equity reacts as it tests either $2.60 or $2.55 and what kind of volume this happens on.  Remember, volume equals the strength or conviction behind a move.
Exponential Moving Averages – EMA's
In yesterdays write up I noted that the EMA levels were all coiled tightly and that they wanted some breathing room on way or the other.  What we saw today was SiriusXM spring to the upside.  The result keeps the EMA's bullish as well as gives a little bit of breathing room.  In the chart below you will notice that there is now gaps developing between each respective average.  The key is that each EMA level wants to be higher than the next.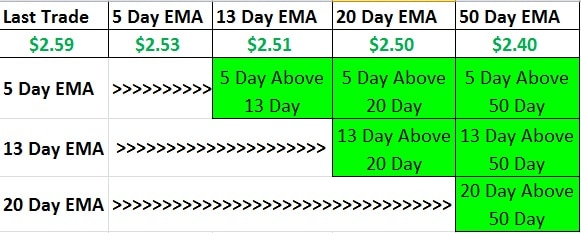 What we want to see now, to remain bullish, is this equity close above $2.54.  This is a nuance that you see by keeping track and updating regularly.  Notice that the desired target for the EMA to remain bullish is below a key support level.  That in and of itself is a bullish sign.  To the opposite side, it would take a close tomorrow below $2.50 to send up even the first caution flag.  That is right at another key support level.  Again, this is very bullish.
Summary
While it is possible that SiriusXM does some consolidation here, I still think the equity wants to stretch its proverbial legs a bit.  Even if it were to consolidate I do not see it as a bad thing.  In my opinion we are close to SiriusXM announcing subscribers and setting 2012 subscriber guidance at about 2 million.  I think the company will do this as soon as next week and that the news will carry a positive impact on the equity.