Well that was interesting.  It would appear that the bets have all already been placed on SiriuisXM's conference call.  Light volume, a mini run, and a close right about where we were.  The equity is taking shots at higher levels, but nothing really noteworthy.  In essence it seems that this will boil down to the numbers and the presentation.  We know the numbers are good, what we do not know is the EPS.  If that can surprise we should be able to pop up above $3.20.
Volume
There is not a lot to say here.  Volume is lighter than we want, and the equity is still range bound waiting on something compelling to let it move a bit.

What we want to watch for is that volume to come back into the equity on an upward day.  Today volume lightened up and saw us drop a penny.  We want to see 50 million shares and the equity up a penny or two.
Support and Resistance 
Even though SiriusXM gave up a penny today, the news was not all bad.  The support levels at $3.11 has now gained more strength.  In fact, it it would appear that a virtual wall is developing there.  That bodes well for SiriusXM.  Holding above $3.10 before the call is what will allow this equity to test something like $3.25.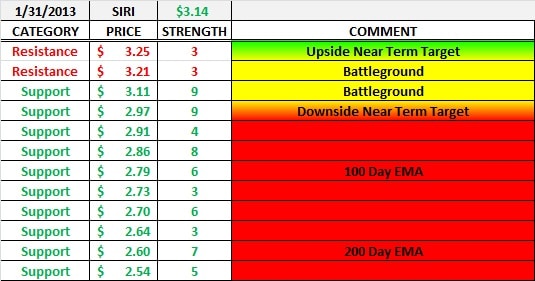 Exponential Moving Averages - EMA's 
This report is short and sweet because now is not the time to overthink things.  At the moment this is what I see:
Strong support at $3.11
Strong support at just below $3
Two EMA's (5 day and 13 day) acting as support between current levels and support at $3.11
Two EMA's acting as support between $32.98 and $3.11.
A company getting ready to report that it met or exceeded all guidance.
The street siting on the sidelines
Everyone waiting to see what stamp Meyer puts on the company.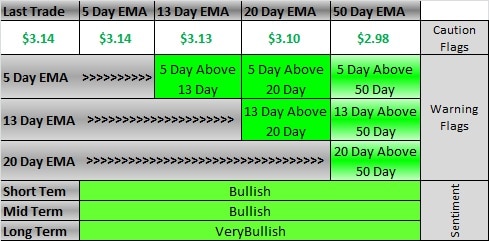 There is a definite bullish bias here.  That does not mean that risk does not exist, but things are looking fine.  Watch tomorrow closely and see if this equity can stay above $3.15.  That is important because the 5 day EMA sits right at $3.14.  No caution flag yet, but one could pop up quickly if the equity drops from here.