This equity can not seem to build up a concerted strength to break upward.  On the other hand it does seem to have the strength to not go down much either.  It is like we are treading water and only moving anywhere based on the current.  There are battle lines drawn at $3.16 and battle lines at $3.23.  On one day the downside grabs the advantage and on the next it is the upward side.  I will say that the bias is still the upward side, but it is not moving to get there quickly.
There are trading opportunities in here if one is looking to grab a couple of pennies, but the reality is that no trader is getting rich right now, and it would be quite easy to see a couple of pennies evaporate in short order.  There are some things to note though.  We are not yet clear on when a share buyback will start, and that can play a major role.  The narrow trading range is actually conducive to the company buying back shares without much attention if they do it in a measured manner.  The short interest and days to cover is high and that is noteworthy.  Some positive news could move this, but the source of that news is not yet known.
Volume
Down on low volume.  That translates into no real strength in the move down and a reluctance of people selling at this level.  I discussed confirmation earlier, and we can see why it is important.  Just as the equity looks to be moving and finally setting a trend the tide shifts.  In actuality this low volume day may represent a decent entry point for traders.

What we are looking for, ONCE AGAIN, is the equity to string together a few high volume days in a direction.  We have seen our share of false starts at this point, so confirmation may well pay off if you watch closely.
Support and Resistance
We have good support at $3.16, and the equity held that line today.  That is good news.  We have resistance at $3.23 and the equity stayed shy of that.  That means consolidation with a slight upward bias.  For tomorrow we want to see $3.16 hold.  The danger below that is $3.09.  There are a couple of EMA support levels above $3.09, so there is a decent safety net in place.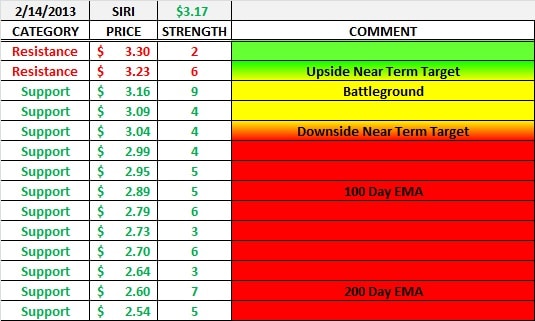 The key here is the volume when key levels are approached.  Today provided a good example of that.  Light volume approaching $3.23 signals that it is unlikely to break.  Light volume approaching $3.16 indicates that it is unlikely to break.  We want volume over 75 million shares.
Exponential Moving Averages - EMA's
The EMA's have a caution flag again.  The equity dipped to $3.17 on the close and the 5 day EMA sits at $3.18.  The EMA's remain quite tight.  What we have seen lately is a caution flag or two develop and then the equity run.  This pattern could well repeat.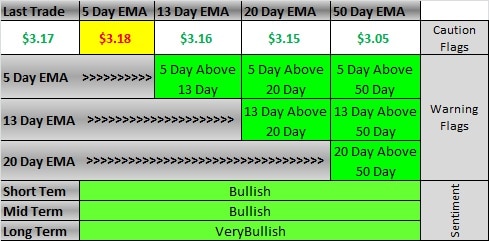 The key level here is $3.16 with $3.09 just below.  Watch the action tomorrow to see if there is a shift.  In my opinion higher volume will mean a higher close , while lighter volume could indicate a second caution.  Stay tuned!