As a SiriusBuzz Premium member you are going to see this first, as well as get my thoughts and insight on the upcoming Q3 conference call.  I have said that this call is about everything BUT the earnings, and I still believe that to be the case.  We are already seeing what analysts are expecting, and my projections are pretty well in line with that which I have previously laid out.  The key here is to think like the investment community and use that to your advantage.  The EPS at two cents is what analysts are expecting, therefore when the company announces 2 cents it will simply be meeting expectations....Not a big deal.  The real story is that it is the refinancing activities that will cause this.  Without that action the company would have had a shot at 4 cents.  That would be a surprise and very well received.  What you know is that the EPS announced is far more conservative than actual performance.  The key is how the company frames this information.  If the early press release simply focuses on the numbers, the pre-market will be ho-hum.  If the announcement focuses on Guidance, share buybacks, etc, then the street will be positive and likely send the equity higher in pre market.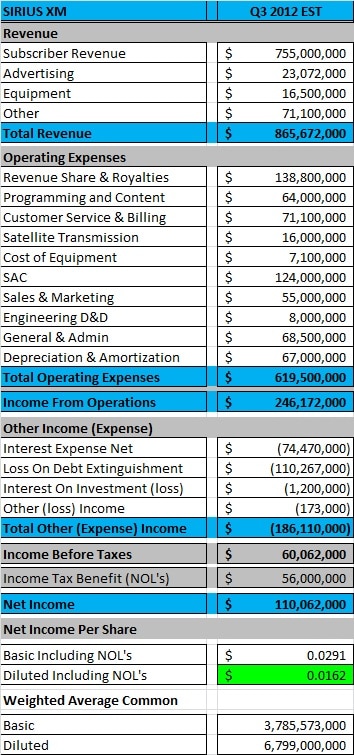 The subscriber number is already known.  While the details are important, I think that the street will wait on those in favor of the other news.  As long as there is no big negative, which I do not foresee, this will be a positive catalyst.  Playing this call will be a bit trick.  I do expect a run, and I do expect volatility.  Trying to find a crest will be challenging, but it can be done.  As of right now I see this equity hitting a new 52 week high and getting to a decent level above $3.00 ($3.10 to $3.25).  I then see it pulling back to about $3.00 and setting the stage for the next move.  That could involve a pullback.  If this equity were to spike to $3.25 really fast, I would consider that a selling point.  Of course the action and news of the day could change that sentiment, so be ready for bullet points.
While the EPS will simply match last year, the revenue will be a good bit higher, as will some expenses.
The company should take about $56 million in NOL's this quarter and it is a good thing.  It is those NOL's that make 2 cents possible.  The company will have another $56 million in NOL's to report in Q4.
The SiriusXM story is positive, but the EPS will not reflect it.  Be savvy and use that to your advantage.
There should be a distinct shift in the style of the call.  Not everyone will notice it.  I see this company getting much more general and shifting focus to the bigger picture rather than drilling down into the details.  In the past that drilling down was needed to show that growth would happen soon.  Now those details are not the biggest part of the story.
Some examples.  Look for discussion of revenue and not a focus on ARPU.  Look for discussion on Free Cash Flow and EBITDA growth going forward and not a real focus on what just happened.
We may even get an added gift of some additional raised guidance for 2012.  That would also be a catalyst.
The framework of the call is important.  Look for the Q&A to not really address a Karmazin replacement, and if a question is asked for the company to simply give a safe answer.  SiriusXM controls who gets to ask questions, so do not expect anything huge to happen here.
In addition to the SiriusXM call you will want to pay attention to the Liberty call scheduled for a few days later.  With the Sirius call complete, and the news already out about Karmazin, Liberty may give some added flavor.
I have been of the opinion that most bets will be placed early.  Today showed simple consolidation.  There could be the last minute betters tomorrow and Monday, but I think we have established that $3.00 is likely off the table until the call.
Stay tuned, and I would be interested in your comments on my projections in the chart.  In particular if someone feels there will be a glaring difference from the numbers I have arrived at.
I will be posting more prior to the call, but wanted to give you all some food for thought.