Bullish one day and bearish the next.  Ity is the same situation over and over again lately.  Welcome to the frustrations of consolidation.  At least frustrations for active traders.  Yes, money can be made during these periods by trading, but it takes a great deal of skill and the reward is small.  Better to sit and wait for more concrete days ahead than to get on the wrong side of things.
SiriusXM gave us two more caution flags today.  We now have three of them up.  This is happening on low volume, but also has three of the closely watched moving average all sitting at the same spot!  The 5 day, 13 day, and 20 day are all at $2.76.  The 50 day lags behind at $2.71 and is knocking on the door of $2.72 if the equity can stay above the 50 day average.
This stock has been coiling up, loosening  and then coiling again.  The uncertainty in the air is palatable!  The equity had been exhibiting a bullish bias last week, and now we are seeing the bearish bias.  Just as the bullish bias did not mean a race to $3.00, this bearish bias does not mean a race to $2.60.  We are consolidating.  The lower volume today tells us that there is no hurry to take a trip down.  However, that does not mean that we ignore the signals.  We need to place $2.64 on our radar screen, and a faint blip at $2.60.   Watch the key levels at $2.70 and $2.78.  This is the tale of the tape.  Watch volume at these levels to see if they break.
Volume
As stated, SiriusXM had a lighter volume day today.  Consolidation is still happening and that could take keep the equity in a range between $2.70 and $2.80.  What we want to see is the volume dry up and then pick up.  Lately, this has been a see-saw.  We want to see less of a see-saw and more of a true indication that a trend will establish.  By example, volume at 40 million tomorrow would be great.  This would say that sellers are not interested in selling out down at these levels.  The next phase would then be to build up (provided that the company does not have negative news).

The signals provided by the technicals require constant monitoring   Step away from these for a few days or a week, and you might have been fooled last week into thinking this equity was headed to $3.00 or more.  It is the combination of subtleties in technicals that give you a leg up on everyone else.  The key volume level is still about a 95 million share pace.  That should be enough to take this equity up or down a notch.  Want more than 1 notch?  Make that volume 115 million.
Support and Resistance
SiriusXM stats here remain essentially the same.  Support at $2.70 and resistance at $2.78.  This is classic consolidation.  In fact, the EMA's are all within this range with the 100 day and 200 day EMA working their way up as well.  Over the longer term, the more action that happens at these levels the better.  It will be a strong support level moving forward.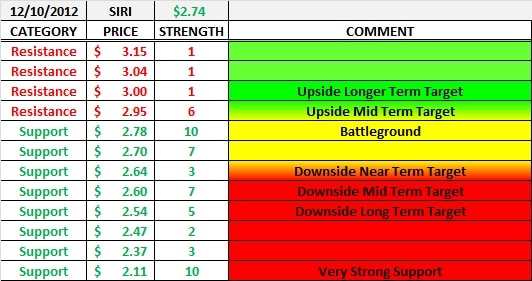 The key levels are $2.78 and $2.70.  Watch them closely.  For the moment ignore the second leg up, as the equity has shifted to a bearish bias in the short term.  That should put $2.64 on your screen, followed by $2.60.  The volume is key.  Touching $2.64 on low volume does not bother me at all regarding my core position.
Exponential Moving Averages - EMA's 
We have the 5, 13, and 20 all sitting at $2.76.  This is much tighter than we like to see things.  It is added resistance to the $2.78 level.  Caution is warranted here as exhibited by the caution flags.  In my mock account I will not even bother with a trade unless $2.67 is broken on very heavy volume or there is some compelling news.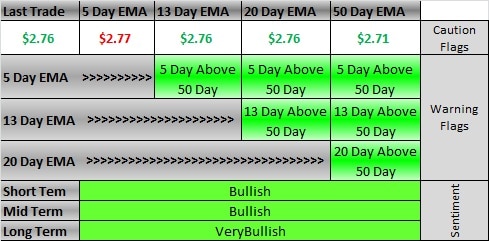 There is a possibility of a warning flag or two developing.  If this appears to be in the works we will want to note the volume it is happening on.  If SiriusXM closes at $2.74 or below tomorrow, we will see a warning flag appear.  A close of $2.70 will likely bring a second warning flag.  This is the bearish bias at work.  Be cautious here in the short term.
Mock Account
My strategy is sell Level 2 Over Core if the equity breaks $2.67 on high volume.  With a 5 cent dividend around the corner, risking trades for a few pennies may not be worth it.  The 5 cents is a sure thing, and I am trying to stick to that and not enact a trade unless I see a compelling move.