Yes, SiriusXM is near 52 week highs, but some of the technicals are starting to break down.  All of this is happening on light volume, but it is happening nonetheless.  Technical traders and the street note such things.  The fundamental story is still sound, but we are in a lull of sorts at the moment.  The unfortunate thing is that there is a substantial technical resistance point at $3.75 that gains strength with each day we remain below it.
We saw the first warning flag develop on Friday.  Some of the more active traders would have taken note when the second, and then third caution flag arose.  If you are still new at this, or the site, you will note that the EMA chart, combined with volume and support & resistance can give early indications of a technical move forming.
At the moment, we have to look to $3.60 as potential downside risk, and the fact that a close of $3.70 or below could bring on a second warning flag.  With $3.75 as strong resistance, the upside run has limitations, while the downside risk is less restricted.  We have 5 cents to the upside and a dime to the downside.  You can see the play here.
Volume is still lower than average.  We want to monitor bolder moves on higher than 40 million shares.  That will be an early signal.  If you see that happen, it is yet another clue to the direction we will drift to.  At the moment it looks like we are getting ready to see the EMA's constrict and consolidate at about $3.68.
Volume

Support and Resistance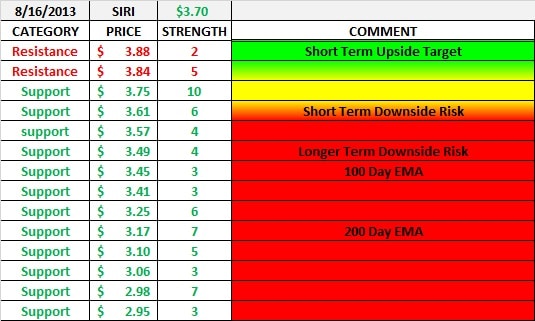 Exponential Moving Averages