As we get ready to open up a new week of trading, we want to look at how the equity closed out the last week.  Most signs continue to point to consolidation with a bullish bias, but there are time during consolidation when caution flags will appear from both a bullish and bearish perspective.  That is part of where we are now, and it has less to do with SiriusXM, and more to do with an overall market sentiment than anything else.  Even a share buyback announcement coupled with a special dividend was not enough to take the equity to the next level!
We saw a caution flag develop today as the equity closed out the week a penny below the 5 day moving average.  This is not something to get overly concerned with, but is worth keeping on your radar screen.
Volume
Volume Friday was heavier than normal, but not heavy enough to show strength.  Again, it is consolidation at its finest.  For strength we need to see volume up to 95 million shares plus.  Outside of that, the equity will be range bound between a possible low of about $2.64, and a possible high of $2.85.  In this wider range appearances will be rare.  The equity should spend the bulk of its time between $2.75 and $2.80 until the volume steps up.

Support and Resistance
No significant changes here.  $2.85 is a level that needs volume to pass.  There is safety at $2.75 and $2.70.  The key levels are $2.75 and $2.80.  Watch volume and direction at these levels.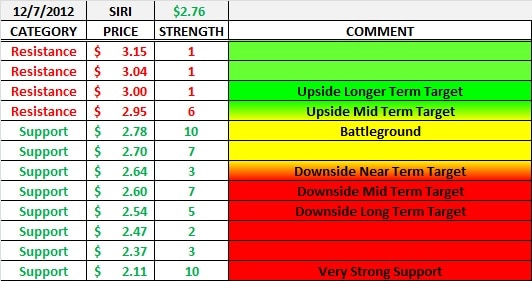 Exponential Moving Averages - EMA's
We have one caution flag.  The equity will need to close above $2.77 in order to remove that flag.  The EMA's are very tight.  This means the equiuty wants to move one way or the other.  The macro economic situation will dictate which direction more than anything SiriusXM does at this point.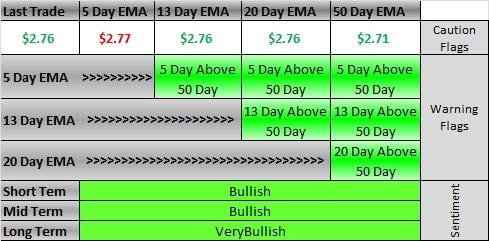 Mock Account
Holding the line at this point