We have started the week off on an interesting footing.  Short term signals have upgraded from very bearish to bearish.  Meanwhile volume seems to indicate some consolidation and EMA's continue to converge.  All in all it this equity has a certain stability and any bearishness should be short lived.  Remember though, just because bearishness may be a bit less, it does not mean that bullishness has taken over.
Volume
The volume was lighter than normal and while perhaps indicative that a bottom was reached when we tested the 50 EMA, it is not showing enough strength to bring out a bullish sentiment.

What we want to watch for is some compelling volume.  This would be volume over 70 million shares.  If we get volume in that area then we know the equity is getting ready to test new waters.  Until that point it would appear to be consolidation mode.
Support and Resistance
Believe it or not this equity traded in a pretty bullish manner today even though the move was essentially neutral.  The reason I say it was actually bullish was because the trading effectively lowered the resistance at $2.81 to a level of $2.77.  SIRI closed at $2.78, so the $2.80 level is now much less meaningful.  What just one trading day ago a wall of resistance is now underneath the equity.  The question is whether or not it will remain there.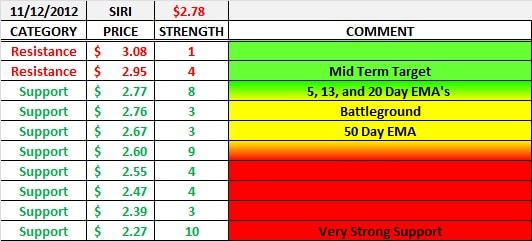 The support and resistance chart is quite interesting.  There is little resistance above and strong support just below.  While the chart does not show $2.80, it does seem to be a challenging point.  What we want to watch for is the action at $2.80 and see if the equity can stay above $2.75.
Exponential Moving Averages - EMA's
The EMA's are getting quite compelling.  We have consolidation of the 5, 13, and 20 day moving averages.  We have the 50 day average moving up as well.  When moving averages converge an equity will typically make a compelling move.  A compelling move to the upside would be $2.95.  A compelling move to the downside would be $2.60.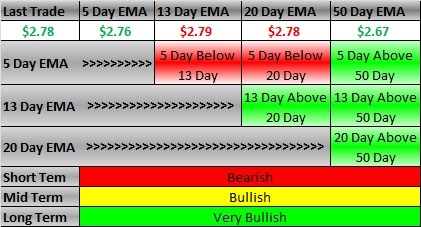 What we want to see is the equity consolidate a bit more over the next few days.  In my opinion if the 50 day EMA gets to within 5 cents of the 5 day EMA this equity will be poised for a move.  I would bet that the move will be bullish and upward but short lived.  Tomorrow will give us more data to work with.  If I had to guess tomorrow will offer up a test of $2.80 before giving up the test and will close between $2.76 and $2.78.