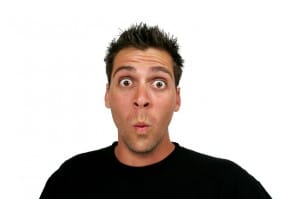 Well this was a good day!  SiriusXM made it above a key resistance level and it did it on volume.  What more could you ask for?  I know, you want $3.25 now.  Well, that will be in the cards at some point... the question is how soon.  I am going to take a moment to talk about confirmation.  I am not referring to the Catholic religion here, I am talking about confirming a move and/or direction.  Waiting for confirmation of a move can cause you to give up a few cents, but it can also save you a few as well.  Whether or not to wait depends on many factors.  Your tolerance for risk, the mix of your portfolio, as well as the likelihood of a big move one way or another.
There are also outside forces at play here.  The short interest is up to something over 400 million shares, but more importantly the days to cover is above 10.  I typically do not make much beef about the short interest unless it gets to 10 days to cover.  At that point a squeeze of some sort can happen and carry an impact that is more than a 5% run. SiriusXM was getting coiled tightly and this run provided a bit of breathing room.  We have seen this before though.  A modest run followed by a modest correction.  That is what confirmation is all about.  If SiriusXM can hold the line tomorrow and do so on volume similar to today we have confirmation that, at a minimum, a new trading range is emerging.
I have felt for a while now that there exists an upward bias in this stock.  We are seeing it demonstrated in the trading activity of the past few weeks.  I still feel the bias is to the upside, but as always we need to consider the downside risk as well.
Volume
This is what we wanted to see.  A move up on good volume.  I would have been happy just seeing the equity get to normal volume, but we got even better.  Now we want to see the volume continue at these levels for a day or two and then settle into something more along the lines of 65 million shares.  Absent any compelling news this equity will not shoot up too fast, but a slow and steady climb has its merits.

Support and Resistance
A changes here.  I have added a new resistance level at $3.30.   The new key level to watch is $3.16.  That was the strong resistance that was broken today, and as such it now represents strong support.  We want to see the equity stay above these levels.  I would not even mind seeing it test and bounce off of that level to confirm the strength of the support.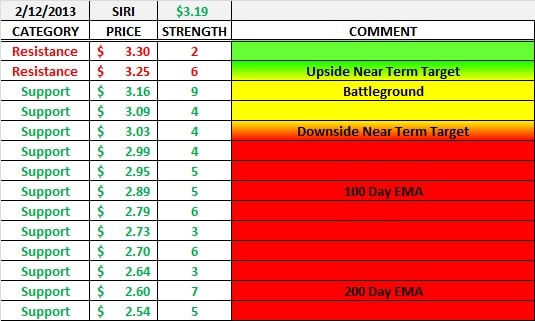 To the upside the new hurdle is at $3.20 and then $3.25.  If the equity can pass $3.20 and close above it for a couple of days then we look upward.  There is a chance that $3.20 becomes more of a challenge and the strength of that level increasing.  This is where the establishment of a new battleground is most likely to happen.  I can actually see a trading range between $3.16 and $3.22 happening as we close out the week.  Any decent pop (10 cents or more) could get the shorts attention.  For this reason it is important that you as an investor pay attention.
Exponential Moving Averages - EMA's 
The EMA's are all green again.  This feels like groundhog day!  The ranges are still tight, but we are green.  The longer term story remains bullish.  The short term story wants a bit of confirmation.  We now have the 5, 13, and 20 day EMA's within a couple of pennies.  Here is the caution side of the equation.  A close below $3.16 brings up 1 caution.  A close below $3.15 brings up two.  A close below $3.14 brings up 3.  You can see how that $3.16 support is critical in more ways than one.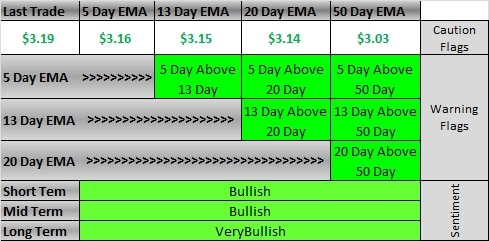 Watch the action and the volume.  I do not really worry unless the equity breaks $3.12 or so, and I do not see that happening tomorrow.  Stay Tuned!