Well, another very interesting day has happened with SiriusXM.  The action today saw me get slightly upside down in mock trading, but as you can see, the impact was minimal, and the trades defensive in nature.  SiriuisXM is still seeking a direction to move.  It is still consolidating, and still playing tricks with the volume.
In the mock account, I am now at -$17.35 with $680.15 in cash awaiting the next buy signal.  The concept of having over core (or trading shares) is simple.   The goal is to try to increase my core position or cash position by trading the technicals.  When an equity is in consolidation mode it is more difficult to gauge, but if you win on the big plays, the little ones are easier to stomach.  Over all, If I were to fill my level 2 over core position right now I would be 6 shares lighter than when I started.  Not  a win by any stretch, but still essentially in the same position I was in prior, the big difference being that if the equity dips from here, I can be green more quickly.
The company did announce a new $1.25 billion credit facility.  This means that a share buyback could be announced at any time.  We need to keep that bullish news potential on the radar.
Volume
We had high volume today, and a lot of swing, but nothing compelling at any level.  The volume worked against me in today's action, but overall, I still love to use it as an indicator of sentiment.

It is looking like we now need to adjust the level of volume it takes to make a compelling move.  In my opinion, we are not seeing the equity make good moves on what we were considering high volume.  I am going to bump up the volume indicator to 95 million shares.  Trading at that pace should be just enough to break either support or resistance with some conviction.
Support and Resistance
There was a positive development here today.  SiriusXM has now established a strong support level at $2.70.  That is another layer of insulation for us to consider, and actually helps out with being strategic about trading.  The see-saw support and resistance level between $2.74 and $2.77 is now back at $2.77.  The equity is having serious trouble breaking out of the $2.70's.  It has indeed tested higher and lower, but never with true strength.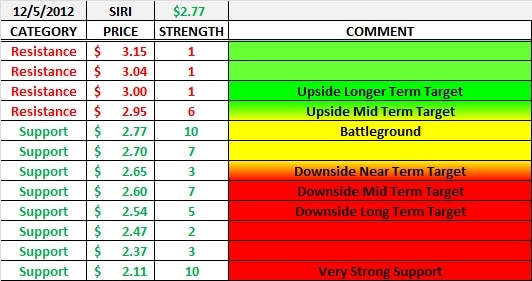 Exponential Moving Averages - EMA's
These are still all green thanks to a painted close.  The close of $2.77 avoided a potential caution flag.  That is good news.  SiriusXM is actually being strong here, though that can be difficult to see.
What we are looking for is this equity to break $2.80 and hold it.  We want a volume pace of 95 million shares or more on this move.
Mock Account
Well, in the mock account I have about $680 burning a hole in my pocket.  After being on the wrong side of the equation today (although not painfully so), I am poised to make a move.  I simply need the equity to cooperate!  Easier said than done.  At the open I am a buyer at $2.74 when the equity dips.  If that does not happen, I am a buyer at $2.79 if the move up there is moderate volume or better.  My defensive line is $2.70.  With the credit facility on the table, I will be much more conservative with trades.  That facility is bullish when it is announced.