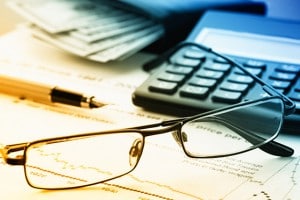 As I get ready to write this I can not help but think back to the past 24 months and tons of keystrokes regarding a debt to EBITDA ratio of 4.5 vs. the 3 that Mel Karmazin said was the sweet spot.  At the time, I pointed out that the added debt would be used for share buybacks or methods that will allow Liberty Media to recoup about $1.7 billion in cash that it had invested.  In response I received ire from many passionate SiriusXM investors about Liberty pulling the strings and loading up SiriusXM with debt.  Today, those same readers are seeming to celebrate a move made by SiriusXM that allows the debt ratio to go to the 4.5 level that I once stated it would go to.  On April 22, 2014 SiriusXM filed an 8k with the SEC that outlined the following:
"On April 22, 2014, our subsidiary, Sirius XM Radio Inc. ("SiriusXM"), entered into an amendment to its existing $1.25 billion five-year senior secured revolving credit facility with JPMorgan Chase Bank, N.A, as the administrative agent, and a syndicate of banks and financial institutions and other agents parties thereto.

The amendment modified the negative covenant contained in the revolving credit facility regarding restricted payments. Pursuant to the amendment, SiriusXM will be permitted to make restricted payments, which include dividend payments to us, so long as, after giving effect to such payment, SiriusXM's total leverage ratio for the four consecutive fiscal quarters most recently ended is no greater than 4.5 to 1.0; and both before and after giving effect to such payment, no default or event of default has occurred and is continuing. The description of the amendment to SiriusXM's revolving credit facility contained herein is qualified in its entirety by reference to the amendment, a copy of which is filed herewith as Exhibit 10.1 and is incorporated herein by reference, and SiriusXM's revolving credit facility, a copy of which has been filed as Exhibit 10.1 to SiriusXM's Current Report on Form 8-K filed on December 10, 2012."
Some will read this and celebrate the word dividend.  The problem with dividends is the taxes that are associated with them.  Yes, getting a dividend is great, but is it the best way for a company like SiriusXM to return capital to shareholders?  Likely not.  Instead, added debt will most likely be used to finance share buybacks.  Essentially the new ceiling allows for an additional $1.25 billion in borrowing power.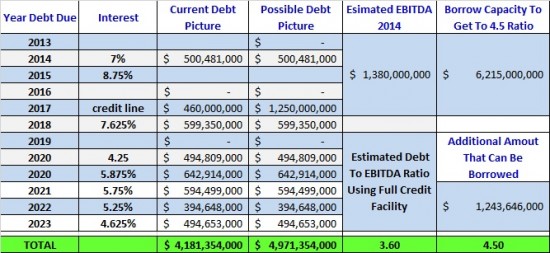 The bottom line here is that there is flexibility for SiriusXM that the company did not have before.  This will most likely be used to add leverage to the company.
There is a possibility that the debt picture will shift from $5 billion to over $6 billion.  The company needs to demonstrate that it can generate EBITDA growth, and it is more important than ever that the company be able to stay below the covenants that are now in place.
Personally I think that the company will stay comfortably below the thresholds and that borrowing will be less than $1 billion if it happens.  Stay Tuned!