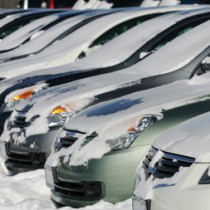 SiriusXM today announced at the annual National Automobile Dealers Association Convention and Expo in San Francisco that it has surpassed 15,000 auto dealers enrolled in the SiriusXM Pre-Owned Program.  This program is designed to give SiriusXM another shot at activating satellite radio's in used cars.  The program offers a free trial to buyers of these cars.
"The SiriusXM Pre-Owned Program launched in the summer of 2011, giving auto dealers the opportunity to provide subscriptions to all of their customers purchasing satellite equipped vehicles.  Major OEMs have supported the program with their franchise dealerships, and many of the nation's top auto dealer groups have followed with 100% of their locations participating in the program," said Joe Verbrugge, Senior Vice President and General Manager, Automotive Remarketing and Retail Sales, SiriusXM. "We are thrilled that there are now more than 15,000 dealers that have taken advantage of this no-cost program, giving their customers access to SiriusXM's unparalleled lineup of commercial-free music, plus premier sports, comedy, news, exclusive talk and entertainment."
Customers purchasing any pre-owned vehicle with a factory-installed satellite radio from a dealer enrolled in the SiriusXM Pre-Owned Program will receive a three-month subscription to SiriusXM's "All Access" package.
In addition, the SiriusXM Service Lane program has surpassed 6,000 dealers enrolled since the program launched in 2013.  Dealers enrolled in Service Lane can provide a 2-month subscription to SiriusXM's Select package to qualifying customers who have their satellite radio-equipped vehicles serviced.
The concept here is simple.  The company has already paid to install a satellite radio receiver into a car.  Subsequent owners of that car may be experiencing satellite radio for the first time.  The program gives a second, third, or even fourth life to the satellite radio.  New customers that come out of this program are very profitable because the cost side of the associated radio was absorbed previously.  SiriusXM has made a concerted effort in maximizing potential by tapping into this new pool of potential subscribers.