We have one caution flag gone, and another is just about to disappear.  The equity is on the cusp of wanting to turn bullish.  Volume looks good, and the volatility of the Liberty situation seems to have settled down.  I wish that I could say that a breakout will send us back to the $3.60's, but that is not really in the cards just yet.
The first step is breaking through $3.43.  That needs to happen, and in my mind the timing here is working against us.  I think that the quarterly report will be sound, but not overly impressive.  This will give investors some pause.  That being said, the company demonstrated that it can and should stay above $3, so we are near the bottom.  This dynamic will be recognized by the street as well.  When an equity is at the bottom, the buyers typically come in on a sign of strength.
We want to watch the support at $3.16.  Keep that in your mirror.  If We break below that, the upward process will take longer.  What we want to see is this equity take out $3.30 on volume over 60 million shares.
Volume
Support and Resistance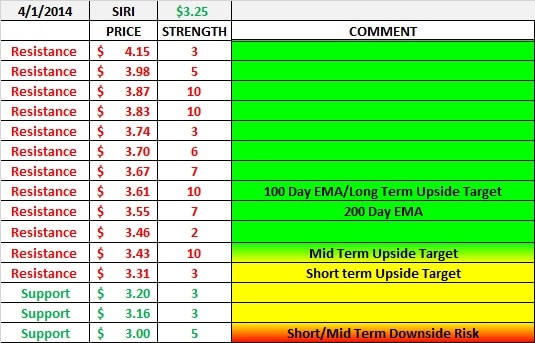 Exponential Moving Averages