We have been down this road before.  SiriusXM makes a bullish run but does not get back up above the 200 day EMA and does not break above the $3.50's.  The action Friday was quite positive and give a glimmer of hope.  The volume looked good, and the the stock closed at the high of the day.  We are bullish again, but is this the time that will deliver the goods and send this equity back toward the $3.60's (where it was before the first Liberty media offer)?
What we want to watch for is this equity to break above the $3.48 resistance.  If the equity can not do this by Tuesday, then the bullish signals we are seeing now are not as strong.  If it can break $3.50 and close above that level for the week, we could be seeing the return of some strength to this equity.  My confidence level on a run up....about 35% chance.  That may sound bearish, but this level of confidence is higher than it has been on previous runs.
The EMA's are wound very very tight.  A move of at least 10 cents in one direction or the other is in the near term future.
Volume 

Support and Resistance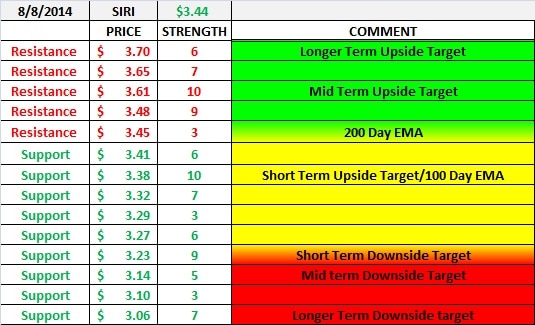 Exponential Moving Averages