This equity is finally on the cusp of seeing technicals that can support a bit of a run.  Yes, you read that correctly!  This equity is finally shaping up from a technical standpoint.  As last week closed out we saw good volume enter the equity and saw the price close above key technical indicators.  Volume is good, support and resistance is good, and the EMA chart is shaping up.  Now I am going to spoil the day.  We are still not out of the woods yet.
While we may not be out of the woods, the ingredients are present to make a nice move.  We are a penny above strong support at $3.27, and five cents above another strong support level at $3.23.  We are just nine cents away from taking out the 100 day EMA and twelve cents from taking out the 200 day EMA.
What we need to see is this.  We need to hold this line, get into the $3.30's, and stay there.  This will allow the support to gain strength and perhaps get us to a point where this equity can get above the 100 and 200 day EMA's for a change.  The last time we were above both of these EMA's was back in January.  2014 has been a long year for SiriusXM investors.
May auto sales are on tap, and all indications are that the SAAR will be above 16 million for the third month in a row.  If SiriusXM can get past the $3.30's, we could finally see tests of levels that we only saw very early in the year.  As I said, there is still a bit of caution, but we have not been this close to a bullish breakout in quite some time.
Volume

Support and Resistance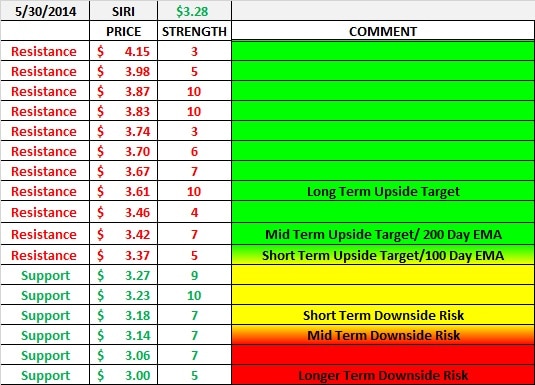 Exponential Moving Averages