Now this is what I like to see.  SiriusXM offered up a clear reversal signal by closing up on above average volume.  Students of this site can already see what has transpired.  This is exactly why I follow more than one technical system.  I use volume to gauge sentiment and strength, support and resistance to consider strategic entry and exit points, and EMA's to deliver good signals on future movement.  All combined, we have our proverbial finger on the pulse of this equity.
We saw 61 million shares change hands today and the equity appreciate to $3.79.  We passed a small resistance hurdle today, and essentially traded within the range I spoke of yesterday.  The equity even did a small feint toward the $3.84 by touching $3.82.  The next step is knocking on the door at $3.84 a time or two before the equity builds the confidence to open that door.  Once that happens, we will have a solid footing below us again.
My caution is still monitoring this closely.  That support at $3.78 is very fresh, and I would not be shocked if we test down below it again.  As I stated, I am anticipating a bit of a range trade.  Where we appear to be pretty safe is in the assumption that the base here is the 100 day EMA.  This equity did test it, but rebounded off of it.  We can now rest a bit easier in that knowledge.
On the EMA front, we did manage to erase a caution flag.  This could be the first chart signal that the reversal is in tact.  What we would really like to see is that fact confirmed in the next trading session.  That being said, if we think of $3.70 as the bottom side risk, and $3.84 as the immediate upside potential, we have more time before a decision needs to be made.  Why not let as much confirmation as possible show itself before making a bold move?  If I was a betting man, I would bet that this equity tests $3.74 on Monday.
October auto sales are coming in, and all appearances are that the number will be about 1.21 million.  I will update my data over the weekend and post my usual charts and analysis.  Remember, there is a shift ion the GM contract.
Volume 

Support and Resistance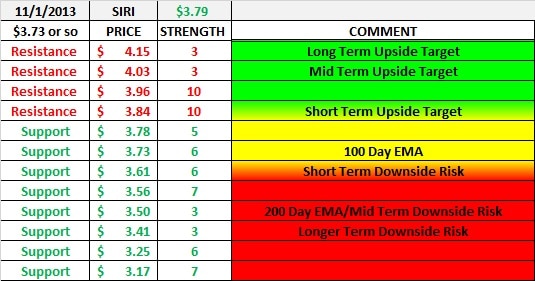 Exponential Moving Averages