I spent the better part of Friday and today assessing the news that Liberty Media delivered after the market closed on Thursday night.  I offered up my initial reporting here and on Seeking Alpha.  Now it is time to assess beyond what is already widely known.  The deal with Liberty is off.  To some investors that is good news.  To the bulk of the investors that make up the majority of the minority, the news is not all that great.
Institutions were liking the prospects of a combined company, and many still do.  In the numerous conversations that I have had over the past two business days, the general feeling is that a deal of some nature will need to happen at some point.
The good is that if you like a more pure play, the Liberty Broadband side of the Liberty Media shares is now separate.  The bad news is that the growth that can be delivered from the cable companies is now gone.  Cable is going to go through a series of mergers, sales, and spins.  Each step usually brings its own added value.
In my opinion SiriusXM will continue to have a ceiling of sorts associated with it.  It will now always be known as the company that Liberty is going to do something with.  The company can indeed grow on its own, but there will now always be an eye on a potential Liberty play.  In my opinion the deal lost attractiveness when Liberty traded down further than anticipated while at the same time SiriusXM was able to hold less of a downward curve.  I have always maintained that this deal structure had a very narrow window where it made sense, but that if it could happen that the street would appreciate it to a degree that neither would have on their own.
SiriusXm did see an upgrade from Evercore today, and that is a positive sign considering that Evercore likely saw more of the inner working of SiriusXM than many firms get to see.  Evercore places a $5 price target on SiriusXM with some lofty valuation multiples.  In my opinion, the top for SiriusXM in 2014 is about $4.50 with an outside shot at a higher number IF the company offers up guidance for 2015 in the Fall.  The street shifted money from SiriusXM to Liberty on Friday.
Some good news is that SiriusXM seems to have established a foundation of sorts and that strength in the $3.40's has some meat to it.  That being said, this equity needs to hold the $3.40 line for the rest of the week.  The bottom line is that for the most part, those I speak to feel a new deal will develop at some point and that Liberty will see its ownership levels increase slightly after a small dip in April.  The technicals are still pretty ugly.  Each EMA has lost about 5 cents in the last week.  Holding $3.42 is critical.
Volume

Support and Resistance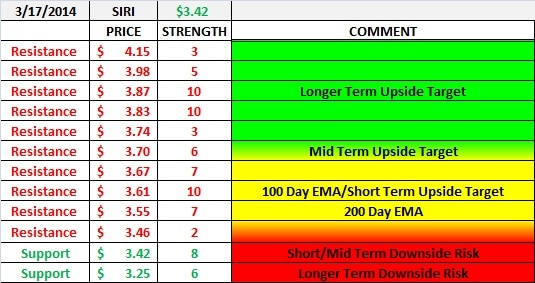 Exponential Moving Averages