Welcome to groundhog day.  SiriusXM remains penned up in a narrow range on the verge of a move when news is announced.  The news the street wants, of course, is what is happening with Liberty Media.  Now, there are a lot of people that are critical of me for having to audacity to try to look at this deal in an objective manner.  It is not whether I think the deal is good or bad.  It is not whether I think that this company would be better without Liberty or with it.  It is about assessing the situation and knowing what the parameters are.
Whether we like it or not, Liberty owns 53% of SiriusXM.  Whether we like it or not, Liberty was going to make some sort of move at some point.  Rather than shut down the idea of a deal, why not look at this in its proper perspective.  Is getting to a deal better than not getting to a deal?  In my opinion, getting to a deal is better.  It will allow this company to progress in a way that it currently can not.
The technicals are showing very tight EMA's with a slight bias to the bullish side.  I think this stock can move on deal news.  I think Liberty stock will move in tandem.  The only news that I think that the street will view as positive is news that points to a deal happening.  If a deal does not seem to be in the cards, SiriusXM will be held back by the perception that Liberty might make some other deal that is more complex and not as potentially beneficial to the company.
What we want to watch, even more than the technicals, is the news wire.  We do want to understand that support is at about $3.50, and resistance sits at about $3.61.  News will take this at least a dime in either direction in a speedy fashion.  Anything beyond the dime will be a bit of speculation while the complexities of a proposed deal work out.
Volume

Support and Resistance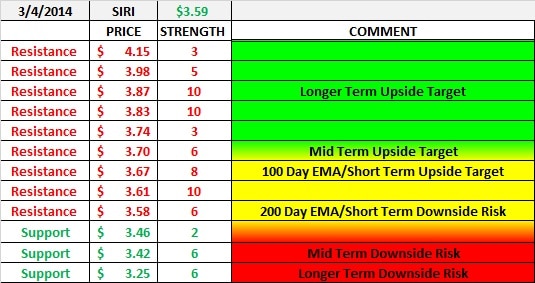 Exponential Moving Averages