SiriusXM is getting ready to embark on a new week, and this presents interesting times for technical traders.  The buy and holders can pretty much sit back and relax.  the active traders have some homework to do.  The biggest question is whether SiriusXM will test lowers or consolidate at current levels.  The answer to that question is far from cut and dry, and removing emotion may be difficult.
The technicals point to bearishness in the short term with challenges for this equity in getting above $2.80.  Because $2.80 will be hard to break, it will be difficult from a technical standpoint on EMA's to get a short term bullish signal.  Look closely at what the technicals say.  They point to challenges at about $2.77 and little strength until we get to $2.60.  From a pure technical standpoint this equity is showing signs that a trip to $2.60 is easier than a trip up to $2.80.
One key in seeing if the equity can revers the near term bearishness is volume.  If SiriusXM can muster up good volume we may be able to see it reverse the current trend.  If it stays in consolidation mode it will take several days for the EMA's to align in order to coil tight enough to push an issue up or down.
Volume
The volume Friday was moderate.  It was slightly higher than average, but below a level which demonstrates strength in a move.  What we want to watch for is volume below 45 million or above 70 million.  The low volume confirms that the trend is done.  The high volume demonstrates strength on a move.  I would actually consider a move down to $2.60 a bullish event as long as it happens on less than 100 million shares.  Such a move would allow for an EMA reset.

Like I stated, the key is watching the action early and on what volume that action happens.  It will help determine whether we make a quick dip down or do some consolidation first.
Support and Resistance
here is the scoop.  We have strong resistance at between $2.77 and $2.80 and strong support at $2.67.  It just so happens that this little trading range is also where every EMA is as well.  The trading range is $2.67 to $2.80.  Those are the key areas to watch.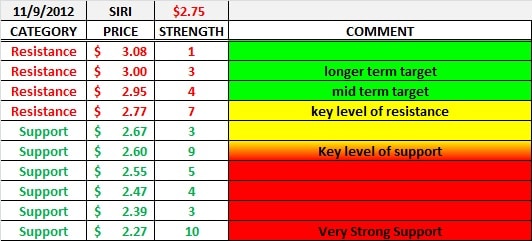 What we want to see is this equity pass resistance on volume, or drift to support on low volume.  As indicated, the action Monday morning may well set the tone not only for the day, but the week as well.
Exponential Moving Averages - EMA's
The EMA's are tight and that could present a situation where we see another danger flag or we see one disappear.  The play was late last week when the first caution flags arose.  At that time I said I would be a seller at $2.85 and watch the action near $2.75 to re-enter.  Re-entry now is the safe play.  The riskier play is trying to wait for a dip to $2.60.  The good news is that even if you play it safe you have an opportunity to make a play at $2.60 again by seeing the early action as it unfolds.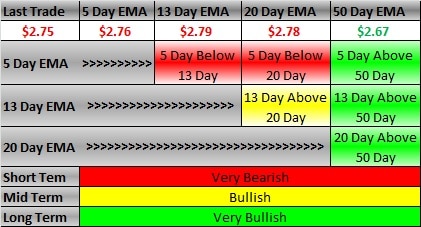 It will take a close of about $2.84 to get rid of danger flags.  It will take a close of $2.73 to add a danger flag.  I am placing the odds that we see another danger flag, but the next session could bring surprise as well.  The safe play is being back in now.